Photo credit: Emma Marie Jenkinson
Ep. 168 features Chase Hall's (b. 1993, St. Paul, Minnesota). His paintings and sculptures respond to generational celebrations and traumas encoded throughout American history. Responding to a variety of social and visual systems, each of which intersects with complex trajectories of race, hybridity, economics, and personal agency, Hall generates images whose materiality is as crucial to their compositional makeup as their indelible approach to representation. A central body of paintings, made with drip-brew techniques derived from coffee beans and acrylic pigments on cotton supports, is notable for both its conceptual scope and its intimacy. The use of brewed coffee carries powerful symbolic weight since it evokes centuries-old geopolitical systems associated with the commodification of a plant native to Africa, but in Hall's hands, it also becomes a means of achieving subtle visual textures, a range of brown skin tones, and a mark-making vocabulary precipitated on the closeness of touch. Above all, however, it is his improvisational willingness to immerse himself in the indefinable personal hieroglyphics of each picture that gives his work its resonance and impact.
Chase Hall was the subject of a solo exhibition at the SCAD Museum of Art, Savannah, Georgia in 2023. In 2022, Hall was commissioned by the Metropolitan Opera to produce a large-scale artwork, the monumental diptych Medea Act I & II, for its opera house in New York, on view through June 2023. Hall has been included in group exhibitions including Together in Time: Selections from the Hammer Contemporary Collection, Hammer Museum (2023), Los Angeles; Black American Portraits, Los Angeles County Museum of Art (2021); Young, Gifted and Black: The Lumpkin-Boccuzzi Family Collection of Contemporary Art, University of Illinois Chicago (2021); and This Is America | Art USA Today, Kunsthal KAdE, Amersfoort, the Netherlands. Hall has been an artist-in-residence at The Mountain School of Arts, Los Angeles; Massachusetts Museum of Contemporary Art (MASS MoCA), North Adams, Massachusetts; and Skowhegan School for Painting and Sculpture, Maine. Hall's work is in the permanent collections of institutions including the Los Angeles County Museum of Art; Dallas Museum of Art; Institute of Contemporary Art, Miami; Fondation Louis Vuitton, Paris; Baltimore Museum of Art; Brooklyn Museum, New York; Hammer Museum, Los Angeles; High Museum of Art, Atlanta; Montreal Museum of Fine Arts; Walker Art Center, Minneapolis; The Studio Museum in Harlem, New York; and Whitney Museum of American Art, New York. Hall lives and works in New York.
Artist https://chasehallstudio.com/
David Kordansky Gallery https://www.davidkordanskygallery.com/exhibitions/chase-hall2
Pace Prints https://paceprints.com/2023/chase-hall-melanoidin
Galerie Eva Presenhuber   https://www.presenhuber.com/selected-public-exhibitions/chase-hall#tab:slideshow
Aspen Art Museum https://www.aspenartmuseum.org/artcrush/live-auction/chase-hall
Met Opera https://www.metopera.org/visit/exhibitions/current-exhibition/
Whitney Museum of Art https://whitney.org/artists/20278
Document Journal  https://www.documentjournal.com/2023/03/chase-hall-the-close-of-the-day-scad-moa-art-exhibition-painting-black-culture-savannah-american-south/
New York Times https://www.nytimes.com/2022/06/02/arts/television/the-wire-20th-anniversary.html
New York Times Opinion https://www.nytimes.com/2021/04/16/opinion/sunday/george-floyd-daunte-wright-minnesota.html
New York Magazine https://nymag.com/author/chase-hall/
Cultured Mag https://www.culturedmag.com/article/2023/06/20/painter-chase-hall-met-opera
Forbes https://www.forbes.com/profile/chase-hall/?sh=202d94bd63f6
Surface https://www.surfacemag.com/articles/public-art-fund-art-on-the-grid/
Vogue https://www.vogue.com/article/the-awesome-audacity-of-chase-hall-artist-profile
Galerie https://galeriemagazine.com/chase-hall/
Ssense https://www.ssense.com/en-us/editorial/culture/troubled-waters-meet-painter-chase-hall
ArtNews https://www.artnews.com/art-news/market/chase-hall-galerie-eva-presenhuber-1234618386/
The Art Newspaper https://www.theartnewspaper.com/2023/07/13/curator-playing-matchmaker-emerging-artists-aspen-collectors
Hollywood Reporter https://www.hollywoodreporter.com/lifestyle/arts/frieze-week-2023-artists-shows-los-angeles-1235325588/
W Magazine https://www.wmagazine.com/culture/chase-hall-artist-clouds-coffee-galerie-eva-presenhuber-show-interview
Ocula https://ocula.com/art-galleries/david-kordansky-gallery/artworks/chase-hall/the-first-day-of-summer-initiation/
Frieze https://www.frieze.com/article/gallery-shows-new-york-frieze-week-2021
Art Papers https://www.artpapers.org/sweat-equity/
One Sun https://www.onesun.art/featured-artists/chase-hall
Nowness https://www.nowness.com/series/private-view/chase-hall-aleczander-painting
The First Day of Summer (Initiation), 2023
acrylic and coffee on cotton canvas
diptych, overall:
71 3/4 x 119 1/2 x 1 3/8 inches
(182.2 x 303.5 x 3.5 cm)
(Image#: CHA 23.007)
Photo: Dario Lasagni, courtesy of David Kordansky Gallery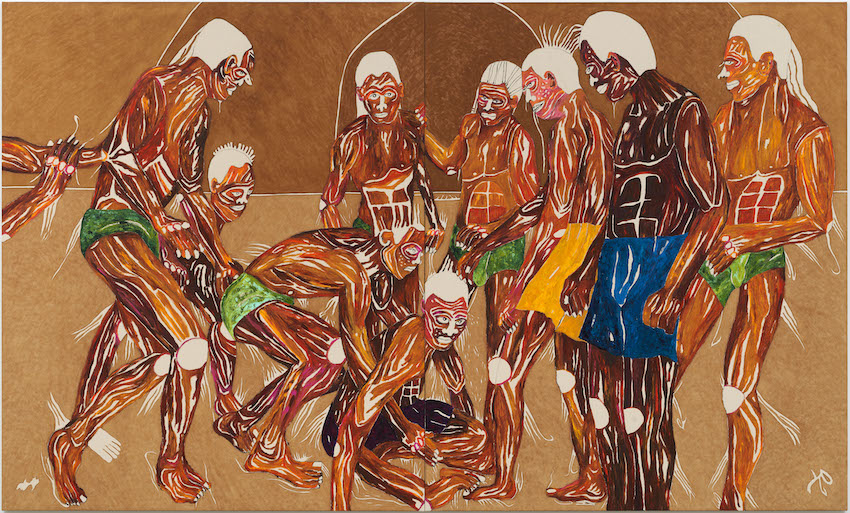 Whitewash (Pelicanus Occidentalis), 2023
acrylic and coffee on cotton canvas
72 x 60 x 1 1/4 inches
(182.9 x 152.4 x 3.2 cm)
(Image#: CHA 23.013)
Photo: Phoebe d'Heurle, courtesy of David Kordansky Gallery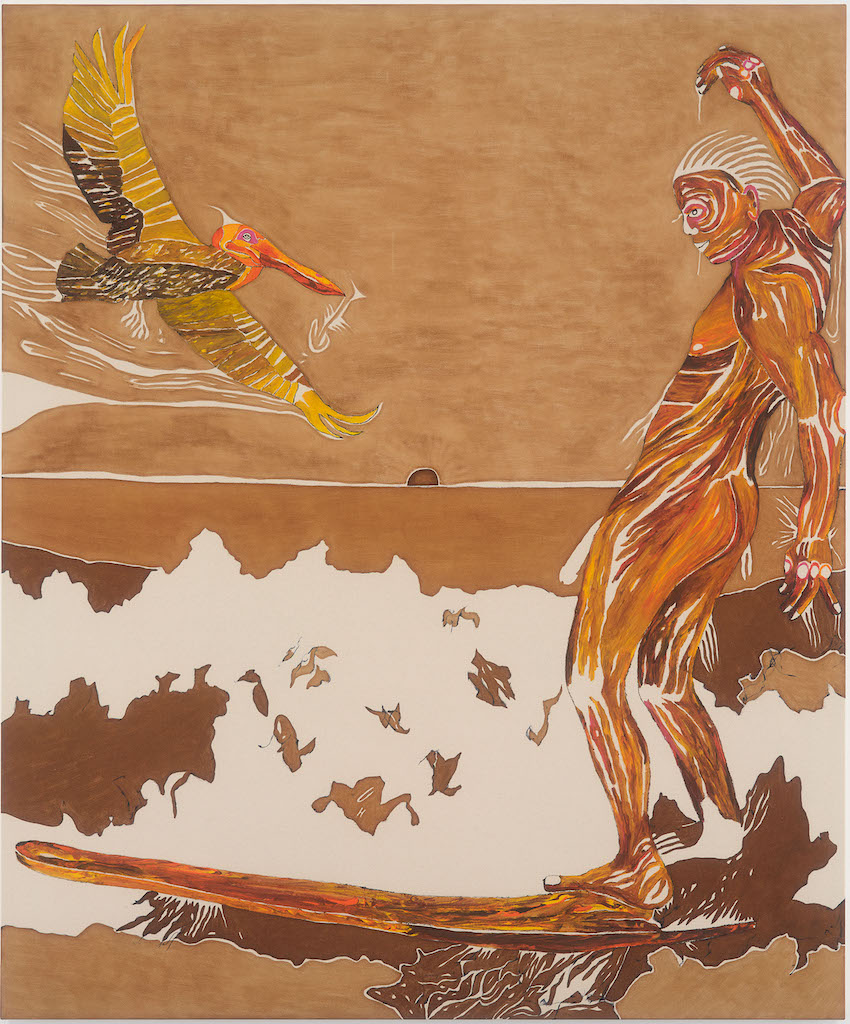 Brother's Keeper, 2023
acrylic and coffee on cotton canvas
67 x 87 x 1 1/4 inches
(170.2 x 221 x 3.2 cm)
(Image#: CHA 23.015)
Photo: Phoebe d'Heurle, courtesy of David Kordansky Gallery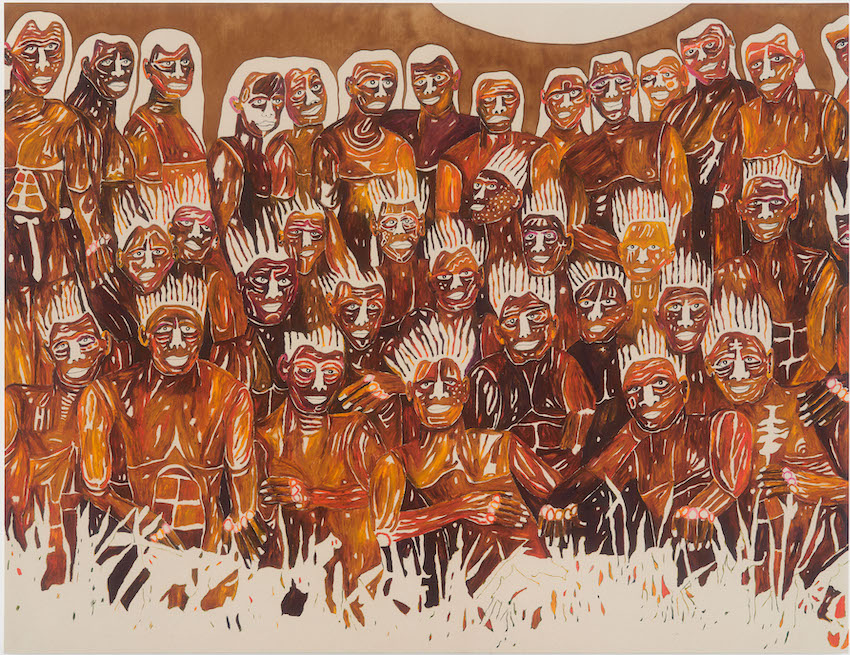 Nine Month Swell, 2023
acrylic and coffee on cotton canvas
72 x 60 x 1 1/4 inches
(182.9 x 152.4 x 3.2 cm)
(Image#: CHA 23.012)
Photo: Phoebe d'Heurle, courtesy of the David Kordansky Gallery