Photo credit: Ligaiya Romero
Ep.152 features Maia Cruz Palileo (they/them), a multidisciplinary artist whose paintings, installations, sculptures, and drawings navigate themes of migration and the permeable concept of home. Influenced by the oral history of their family's arrival in the United States from the Philippines, as well as the history between the two countries, Palileo infuses these narratives using both memory and imagination. They produce paintings of dream-like quality that hover between fact and fiction. Investigating the malleable language of the medium, Palileo's works offer a panoramic lens through which to investigate the larger questions pertaining to forgotten histories and how best to honor these stories in perpetuity. Sourcing subject matter through various photographic archives, their paintings recontextualize the stories, portraits, and images to resuscitate these figures from the exploitative gaze of the ethnographic image.
Palileo (b.1979, Chicago, IL) received an MFA in sculpture from Brooklyn College, City University of New York, Brooklyn, NY (2008) and BA in Studio Art at Mount Holyoke College, South Hadley, MA (2001). Palileo has had solo exhibitions at the Kimball Arts Center, Park City, UT (2022); the CCA Wattis Institute for Contemporary Arts, San Francisco, CA (2021); the Katzen Arts Center, Washington D.C. (2019); moniquemeloche, Chicago, IL (2019); Pioneer Works, Brooklyn, NY (2018); Taymour Grahne Gallery, New York, NY (2017); and Cuchifritos Gallery + Project Space, curated by Jordan Buschur, New York, NY (2015). Palileo has been featured in recent group exhibitions at National Portrait Gallery, Washington D.C. (2022); Seattle Art Museum, Seattle, WA (2022); San Jose Museum of Art, San Jose, CA (2022); Jeffrey Deitch Gallery, Los Angeles, CA (2022); The Rubin Museum of Art, New York, NY (2018); and the Bureau of General Services Queer Division, New York, NY. Forthcoming exhibitions include a solo presentation at Bemis Center for Contemporary Arts, Omaha, NE (2023) and the Nasher Museum, Durham, NC (2023).
Their work is in the collections of The San Jose Museum of Art, San Jose, CA; The Nasher Museum of Art at Duke University, Durham, NC; The Speed Museum, Louisville, KY; and The Fredriksen Collection at the National Museum of Oslo, Norway. Palileo is a recipient of the Sharpe-Walentas Studio Program Award, NY (2022); NYFA Painting Fellowship (2021); Jerome Foundation Travel and Study Program Grant (2017); Rema Hort Mann Foundation Emerging Artist Grant (2014); Astraea Visual Arts Fund Award (2009); Joan Mitchell Foundation Painters & Sculptors Grant (2018); and Joan Mitchell Foundation MFA Award (2008). Palileo has participated in residencies at Skowhegan School of Painting and Sculpture, Madison, ME; Lower East Side Print Shop, NY; Millay Colony, Austerlitz, New York; and the Joan Mitchell Center, New Orleans. They currently live and work in Brooklyn, NY.
Artist https://www.maiacruzpalileo.com/
Book published 2023 https://www.smingsming.com/products/maia-cruz-palileo-long-kwento
Monique Meloche Gallery https://www.moniquemeloche.com/
Joan Mitchell foundation https://www.joanmitchellfoundation.org/maia-cruz-palileo
Chicago Gallery News  https://www.chicagogallerynews.com/events/maia-cruz-palileo-days-later-down-river
Sharpe Walentas – The Studio Program https://www.thestudioprogram.com/2022/maia-cruz-palileo
La Voce di New York https://lavocedinewyork.com/en/arts/2023/04/05/maia-cruz-palileo-days-later-down-river-exhibit-at-monique-meloche-gallery/
Museum of Anthropological Archaeology https://lsa.umich.edu/ummaa/news-events/all-news/search-news/collection-news15.html
Wikipedia  https://en.wikipedia.org/wiki/Maia_Cruz_Palileo
PBS https://www.pbs.org/wnet/americanmasters/maia-cruz-palileo-becoming-the-moon/15825/
The Here and There https://thehereandthere.co/artists/maia-cruz-palileo
Mousse Magazine https://www.moussemagazine.it/magazine/maia-cruz-palileo-monique-meloche-gallery-chicago-2023/
Ligaiya  https://www.ligaiya.com/becoming-the-moon
The Visualist  http://www.thevisualist.org/2023/04/maia-cruz-palileo-days-later-down-river/
Kimball Art Center https://kimballartcenter.org/exhibition/maia-cruz-palileo-long-kwento/
Smithsonian https://portraitcompetition.si.edu/exhibition/2022-outwin-boochever-portrait-competition/wild-flowers/
Ben Brown Fine Arts https://www.benbrownfinearts.com/artists/221-maia-cruz-palileo/
All images courtesy of the artist and Monique Meloche Gallery
Days Later, Down River
2023, Flashe and oil on canvas
86 x 108 in.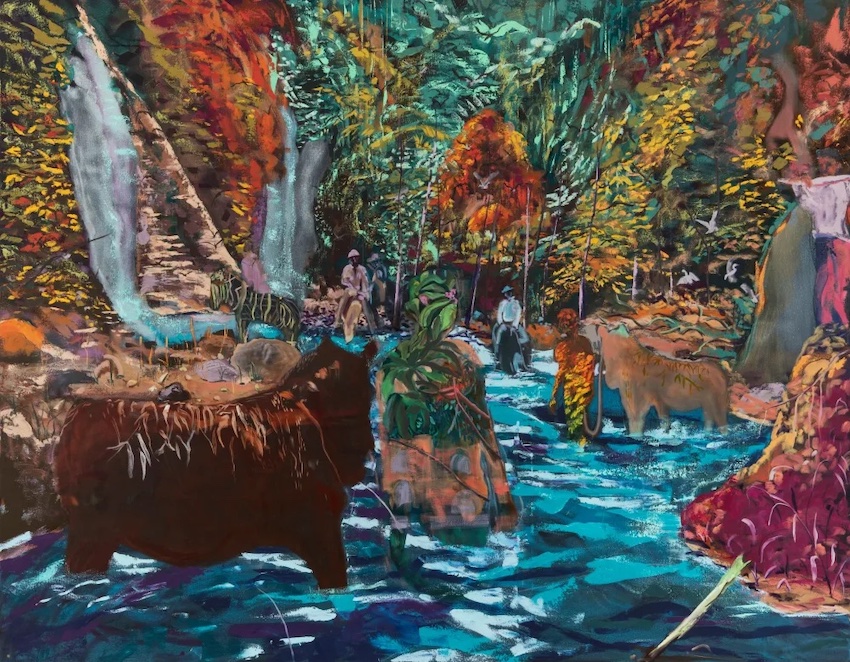 The Slow Course of the Waters
2023, Flashe and oil on canvas, 86 x 86 in.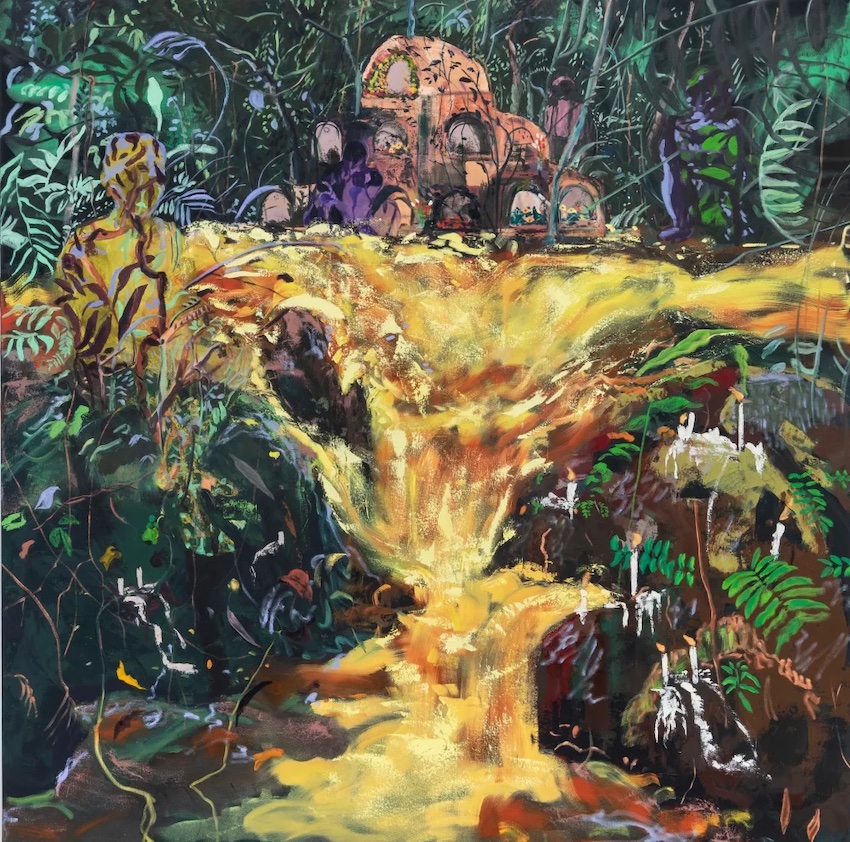 To Gather Together
2023, Flasche and oil on canvas
86 x 108 in.