Photo credit: Daniel Greer
Ep.151 features Layo Bright. Mining personal archives and collective experiences, her sculptural practice interrogates how materials shape perception, culture, and politics. Bright's work explores specific themes of migration, inheritance, legacy and identity through hybrid portraits, textiles, and mixed media that call on natural forms and ancestral memory. Employing a range of materials such as glass, clay, wood and textiles, these forms mirror fragile yet complex relationships with the personal, natural, and built environment. Bright's work with plastic, checkered bags—often linked to migrants around the world—combines the material with crushed glass to critically address the inevitability of migration and loss in our current global climate. In fusing these and other materials, Bright's practice carefully considers the legacy of suppressed histories within inequitable class structures.
Bright (b.1991, Lagos, Nigeria) received her LL. B (Hons.) from Babcock University (2014), was called to the Nigerian Bar Association (2015) and received her MFA in Fine Art (Hons.) from the Parsons School of Design (2018). Bright has exhibited work both internationally and nationally. Solo and group exhibitions include: Rockhaven, moniquemeloche, Chicago, IL (2022); Undercurrents, Sean Kelly Gallery, New York, NY (2022); Lubeznik Center for the Arts, Michigan City, IN (2022); Bode Projects, Berlin, Germany (2022); Phillips, New York, NY (2021); Welancora Gallery, New York, NY (2021); Mike Adenuga Centre, Lagos, Nigeria (2021); Anthony Gallery, Chicago, IL (2021); Parts & Labor, New York, NY (2020); Meyerhoff Gallery at MICA, Baltimore, MD (2020); Untitled AWCA, Lagos, Nigeria (2019); Mana Contemporary, Chicago, IL (2019); and Smack Mellon, New York, NY (2019), among others. In fall of 2023 Bright's work will be included in A Two Way Mirror: Double Consciousness in Contemporary Glass by Black Artists, Museum of Glass, Tacoma, WA.
She is the recipient of honors and awards including the UrbanGlass Winter Scholarship Award (2021/2020), the International Sculpture Center's 2018 Outstanding Student Achievement in Contemporary Sculpture Award (2018), and the Beyoncé Formation Finalist Scholarship (2017). Previous residencies include Tyler School of Glass, Philadelphia, PA; Art Cake Residency in Brooklyn, NY; NXTHVN Fellowship in New Haven, CT; Triangle, Brooklyn, NY; Flux Factory, Queens, NY; The Studios at Mass MoCA, North Adams, MA; Tritryagain Studio Residency, Brooklyn, NY; International Studio Center Sculpture Residency at Grounds for Sculpture, Hamilton Township, NJ. Bright lives and works in New York, NY.
Artist https://layobright.com/
moniquemeloche  https://www.moniquemeloche.com/
Welancora Gallery https://www.welancoragallery.com/artists/38-layo-bright/works/
Superposition Gallery http://superpositiongallery.com/layo-bright
Museum of Glass https://www.museumofglass.org/a-two-way-mirror
ARTnews https://www.artnews.com/list/art-news/market/art-basel-hong-kong-2023-best-booths-1234661821/
ArtReview https://artreview.com/discover-arcuals-pioneering-blockchain-technology/
Artsy https://www.artsy.net/article/artsy-editorial-10-best-booths-art-basel-miami-beach-2022
okayafrica https://www.okayafrica.com/layo-bright-interview/
Bode Gallery https://bode.gallery/artists/109-layo-bright/overview/
Adebisi X, 2023
kiln formed glass
17 1/2 x 17 1/2 x 3 in
44.5 x 44.5 x 7.6 cm
Courtesy of the artist and Monique Meloche Gallery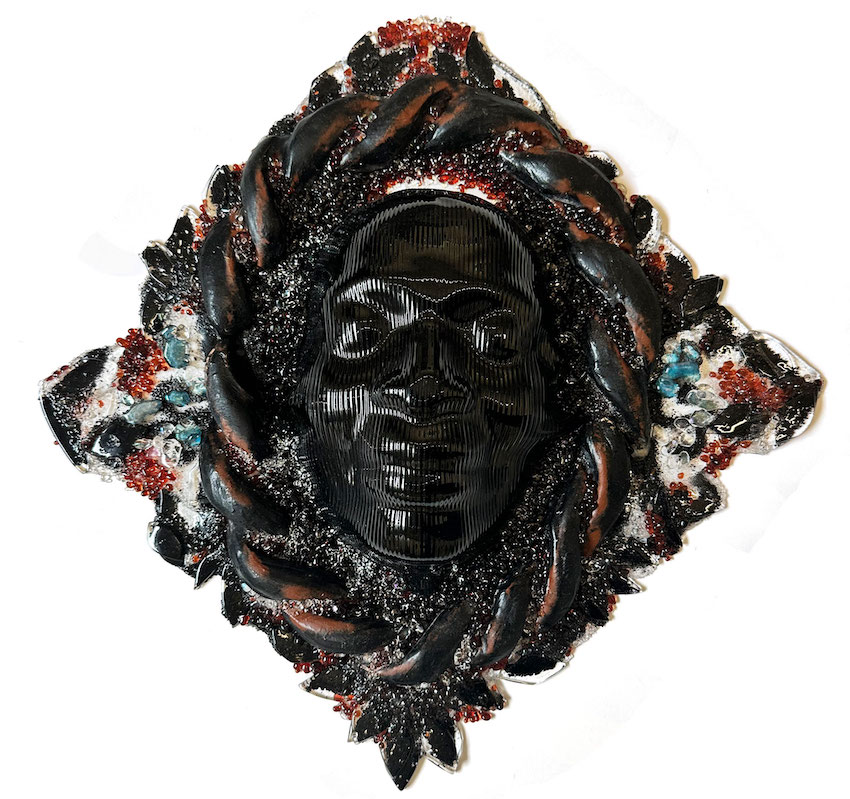 Aso Ebi: Red & Yellow Gold, 2023
gele, ceramic, pigment, wood, Ghana-Must-Go bag
20 x 16 x 12 in
50.8 x 40.6 x 30.5 cm
Courtesy of the artist and Monique Meloche Gallery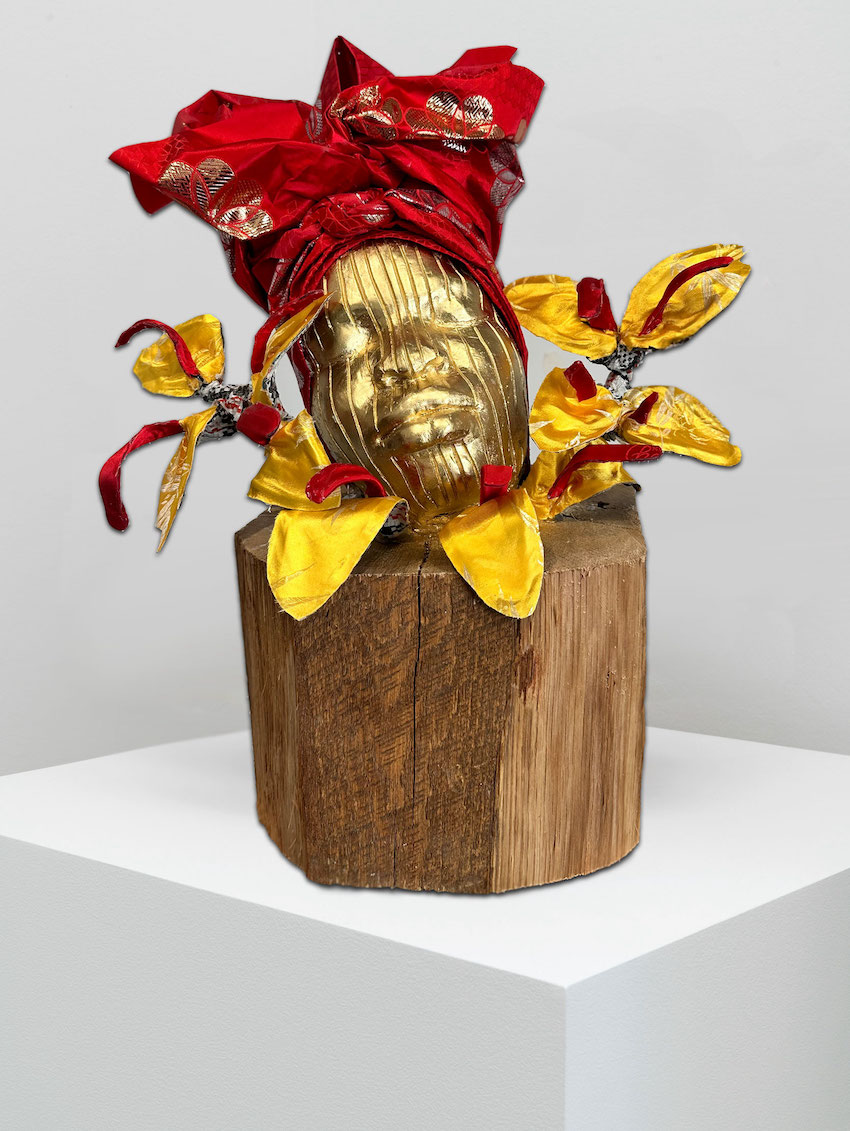 Aso Ebi: Electric Green & Lavender, 2023
gele, ceramic, pigment, wood, Ghana-Must-Go bag
21 x 20 x 13 in
53.3 x 50.8 x 33 cm
Courtesy of the artist and Monique Meloche Gallery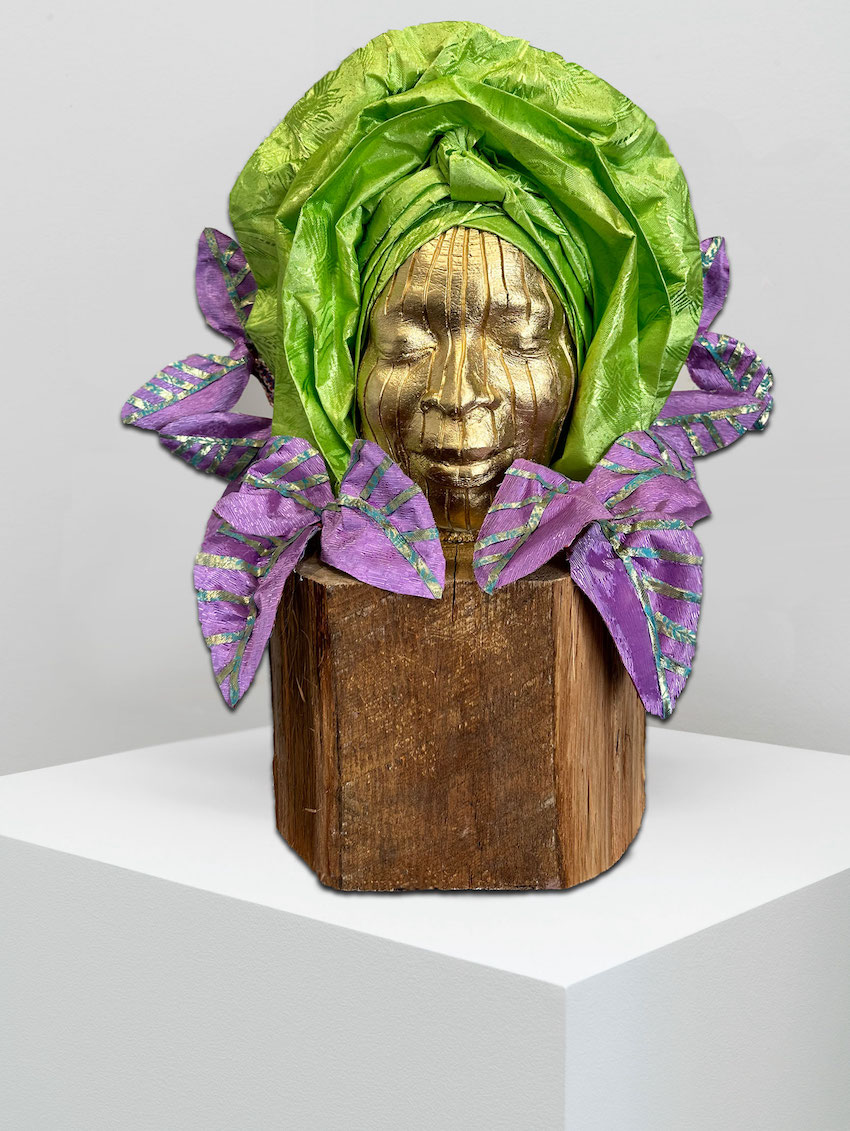 Adebisi IX, 2023
kiln formed glass
12 1/2 x 12 x 3 in
31.8 x 30.5 x 7.6 cm
Courtesy of the artist and Monique Meloche Gallery