Headshot is by Samantha Casolari
Ep.150 features Melissa Joseph (b. 1980, Saint Marys PA), a New York based artist and independent curator. Her work addresses themes of memory, family history, and the politics of how we occupy spaces. She intentionally alludes to the labors of women as well as her experiences as a second generation American and the unique juxtapositions of diasporic life.
Her work has been shown at the Delaware Contemporary, Woodmere Art Museum, Utah Museum of Contemporary Art, Brattleboro Museum and Art Center, Jeffrey Deitch Projects, MOCA Arlington, and List Gallery at Swarthmore College.
She has been featured in Hyperallergic, Artnet, New American Paintings, Le Monde, CNN, and Architectural Digest and participated in residencies at Dieu Donné, Fountainhead, BRIC, the Archie Bray Foundation for Ceramic Arts, and will be in residence at the Museum of Arts and Design and Greenwich House Pottery in 2023.
Artist https://www.melissajoseph.net/
Swarthmore  https://www.swarthmore.edu/list-gallery/conflicting-truths-works-melissa-joseph
The Utah Review https://www.theutahreview.com/exhibitions-about-identity-body-positivity-best-of-utah-design-arts-a-tribute-to-a-beloved-grandmother-artistic-reflection-on-human-mortality-and-realism-highlight-summer-shows-at-utah-museum-of-c/
Bomb Magazine https://bombmagazine.org/articles/melissa-joseph-interviewed/
MAD Museum https://madmuseum.org/learn/melissa-joseph
Hyperallergic https://hyperallergic.com/640357/melissa-joseph-nee-regular-normal/
Culture Magazine https://www.culturedmag.com/article/2023/02/17/artists-frieze-los-angeles-focus-2023
Architectural Digest https://www.architecturaldigest.in/magazine-story/artist-melissa-josephs-felt-art-responds-to-her-biracial-identity/
Fondazione Imago Mundi https://fondazioneimagomundi.org/en/webdoc/melissa-joseph-eng/
Arte Realizzata  https://www.arterealizzata.com/interviews/a-refreshing-conversation-with-melissa-joseph
Textile Art Center https://textileartscenter.com/feature/air-artist-highlight-melissa-joseph/
Le Monde https://www.lemonde.fr/m-styles/article/2022/12/24/melissa-joseph-tissage-et-metissage_6155572_4497319.html
Maake Magazine https://www.maakemagazine.com/melissa-joseph
Aperitivo per due (Nisha and Juni), 2022
Carved stained porcelain
10 x 8 x 1 in.
at Freize LA with REGULAR NORMAL | Photo by Paul Salveson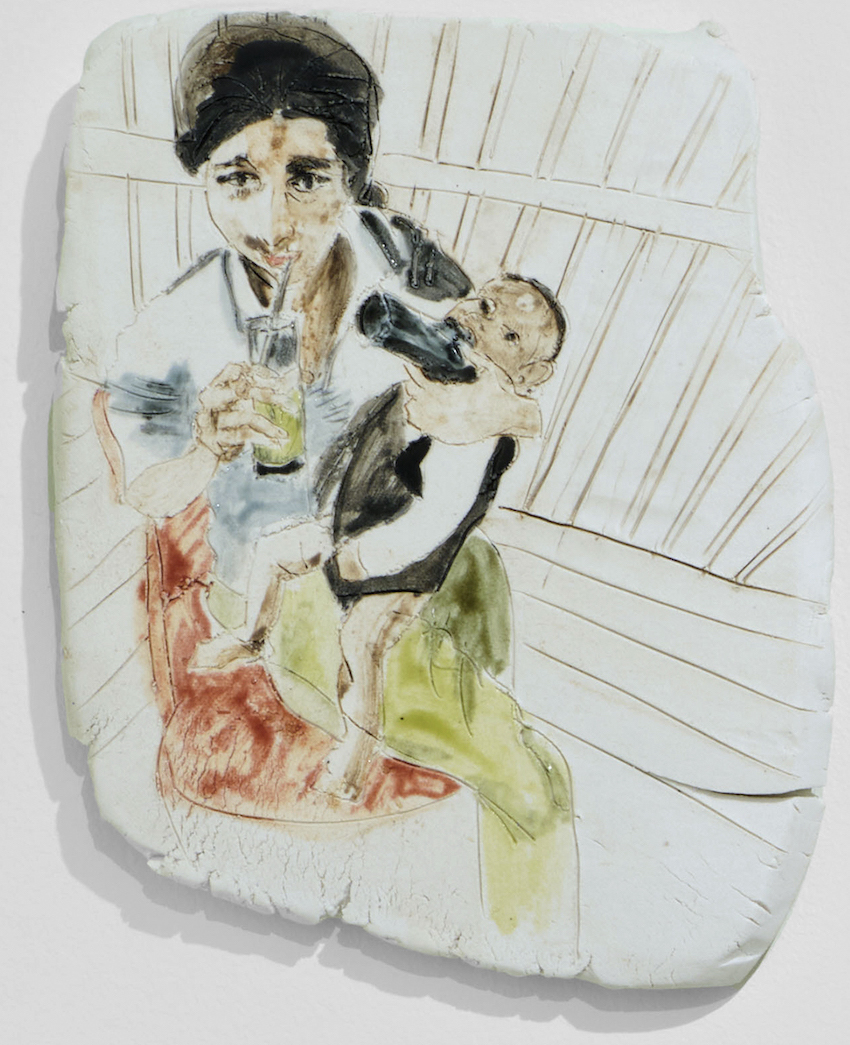 Road to Munnar, 2023
Needle felted wool on industrial felt
60 x 43 in.
at Freize LA with REGULAR NORMAL | Photo by Paul Salveson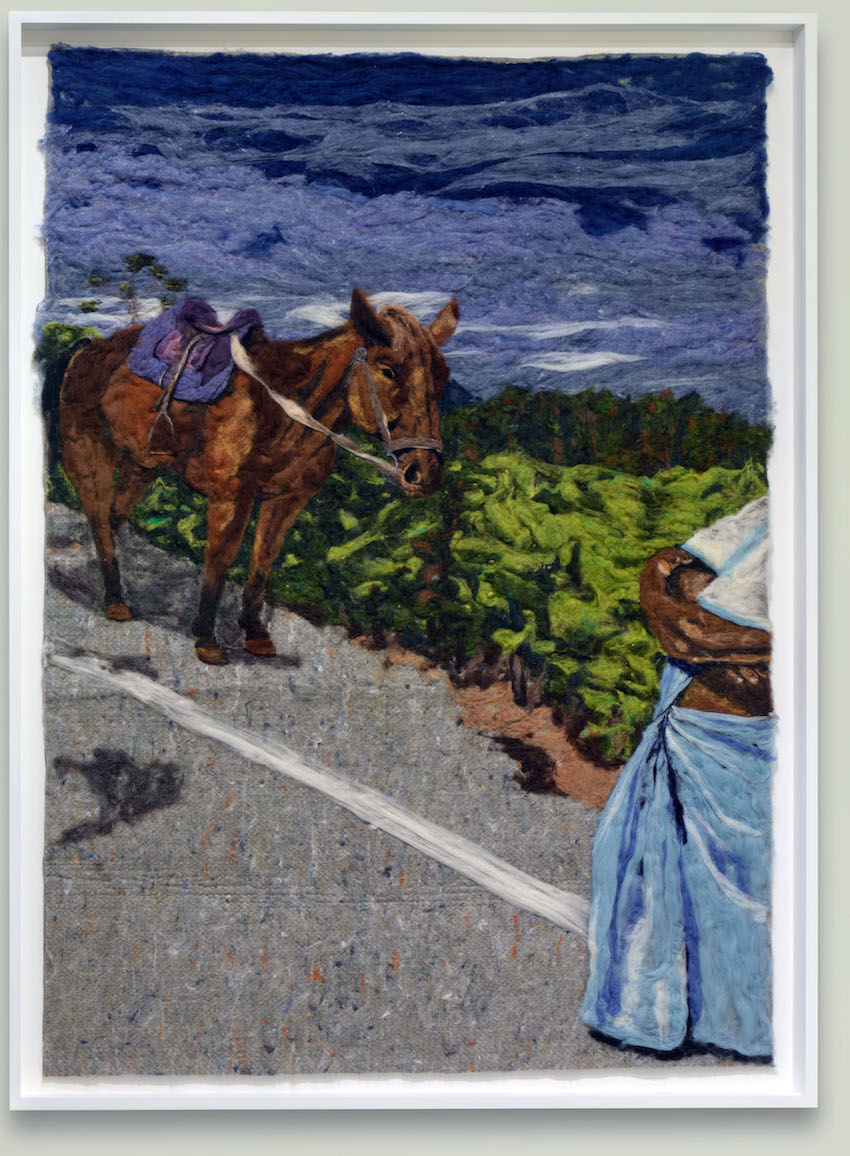 Kadankavil Family 1954
Marbled inlaid stoneware and needle felted wool on industrial felt
13 x 18 inches
at solo show at List Gallery Swarthmore 3/8/23-4/8/23 | Photo courtesy of artist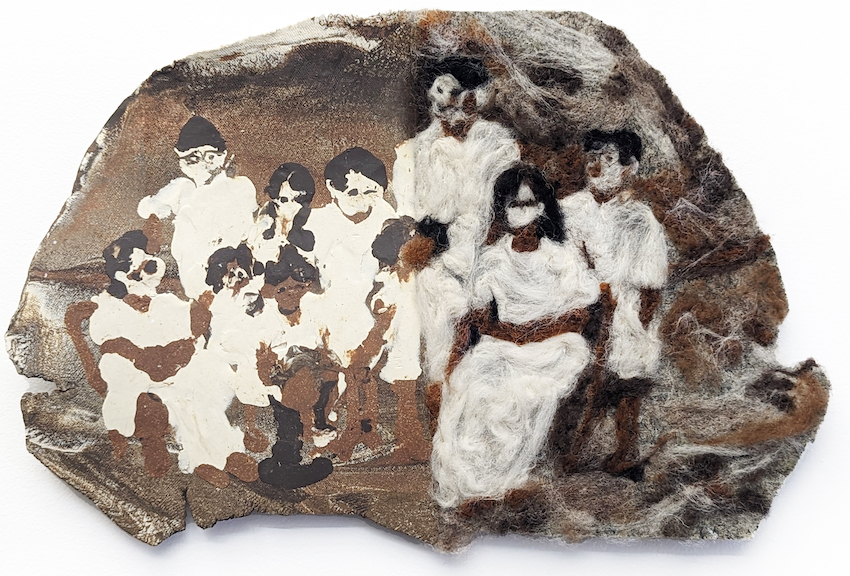 Aunt Jeanne, Aunt Francy and Mom in OCNJ, 2020
wet felted wool
30 x36 inches
at List Gallery Swarthmore | Photo by Garrett Carroll