Episode 58, the fourth during Women's History Month, features Lava Thomas, an American artist and arts advocate who tackles issues of race, gender and representation through a multidisciplinary practice that spans drawing, painting, and site-specific installations.
Drawing from her family's southern roots, intersectional feminism, and current and historical sociopolitical events, Thomas's practice amplifies visibility, resilience, and empowerment in the face of erasure, trauma, and oppression.
Thomas is a recipient of the 2020 San Francisco Artadia Award, the Joan Mitchell Grant for Painters and Sculptors, and the Lucas Artist Fellowship in Visual Arts.
She was recently awarded the commission to create a sculpture to honor Dr. Maya Angelou for the San Francisco Main Library. She has participated in residencies at Headlands Center for the Arts, Facebook LA, and the Djerassi Resident Artists Program. Venues, where Thomas's work has been exhibited nationally, include the National Portrait Gallery, Washington, DC; the International Print Center, NY, NY; the Museum of the African Diaspora, San Francisco, CA; the CA African American Museum in Los Angeles, CA, and the Montgomery Museum of Fine Arts, Montgomery, AL.
Her work is held in the permanent collections of the Smithsonian American Art Museum, Washington, DC; the United States Consulate General in Johannesburg, South Africa; The Studio Museum in Harlem, New York, NY; San Francisco Museum of Modern Art; the Pennsylvania Academy of Fine Arts, Philadelphia, PA; the M.H. De Young Museum, San Francisco, CA, and the Berkeley Art Museum & Pacific Film Archive. Her work has been written about in Artforum, The New York Times, Hyperallergic, The Art Newspaper, The Guardian, SF Chronicle and LA Weekly. Thomas studied at UCLA's School of Art and received a BFA from California College of the Arts. She is represented by Rena Bransten Gallery in San Francisco.
ARTIST WEBSITE http://www.lavathomas.com/
ARTADIA https://artadia.org/artist/lava-thomas/
RENA BRANSTEN GALLERY https://renabranstengallery.com/artists/lava-thomas/
AMERICAN ART https://americanart.si.edu/artist/lava-thomas-31178
NEW YORK TIMES https://www.nytimes.com/2020/11/03/arts/design/san-francisco-maya-angelou-monument.html?
HYPERALLERGIC
https://hyperallergic.com/524415/in-san-francisco-a-design-for-maya-angelou-monument-is-approved-then-suddenly-scrapped/
Addie J. Hamerter, 2018
Graphite and conté pencil on paper
33 ¼ x 47 in.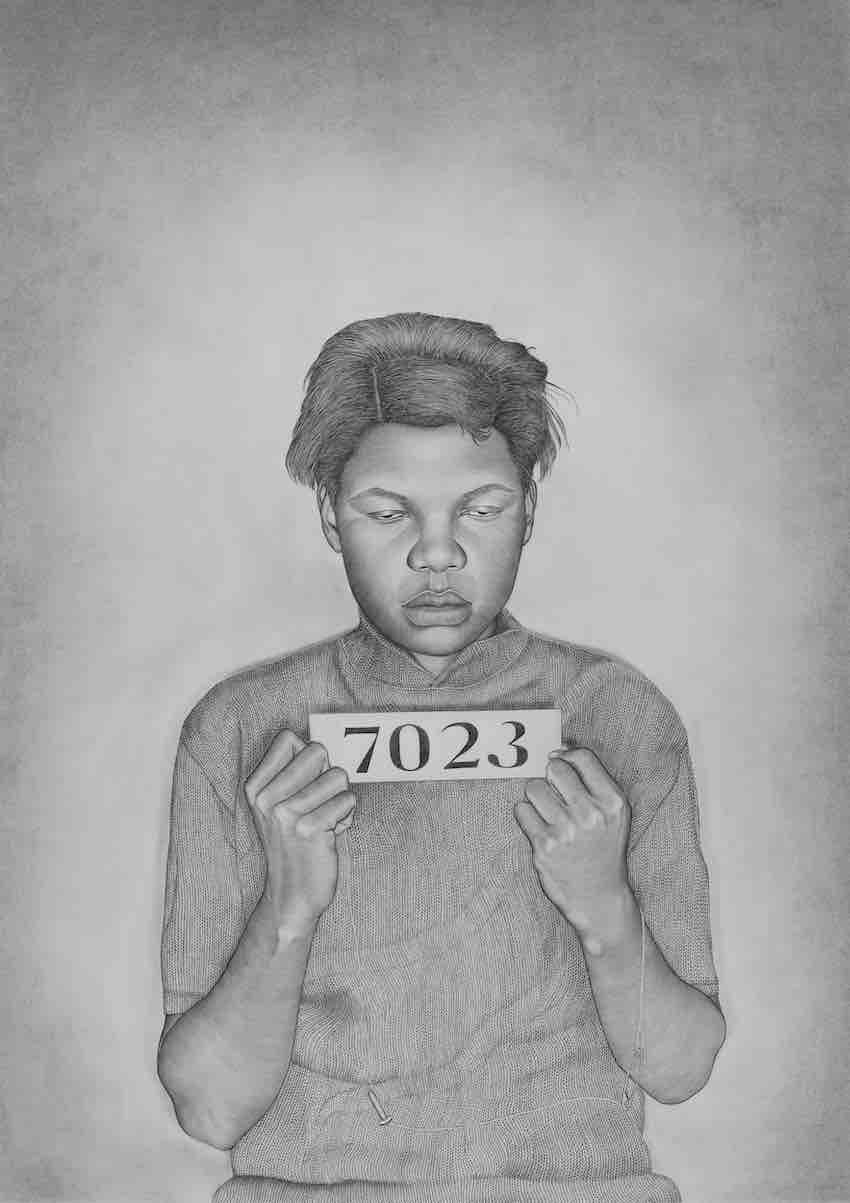 Lottie Green Varner, 2018
Graphite and conté pencil on paper
33 ¼ x 47 in.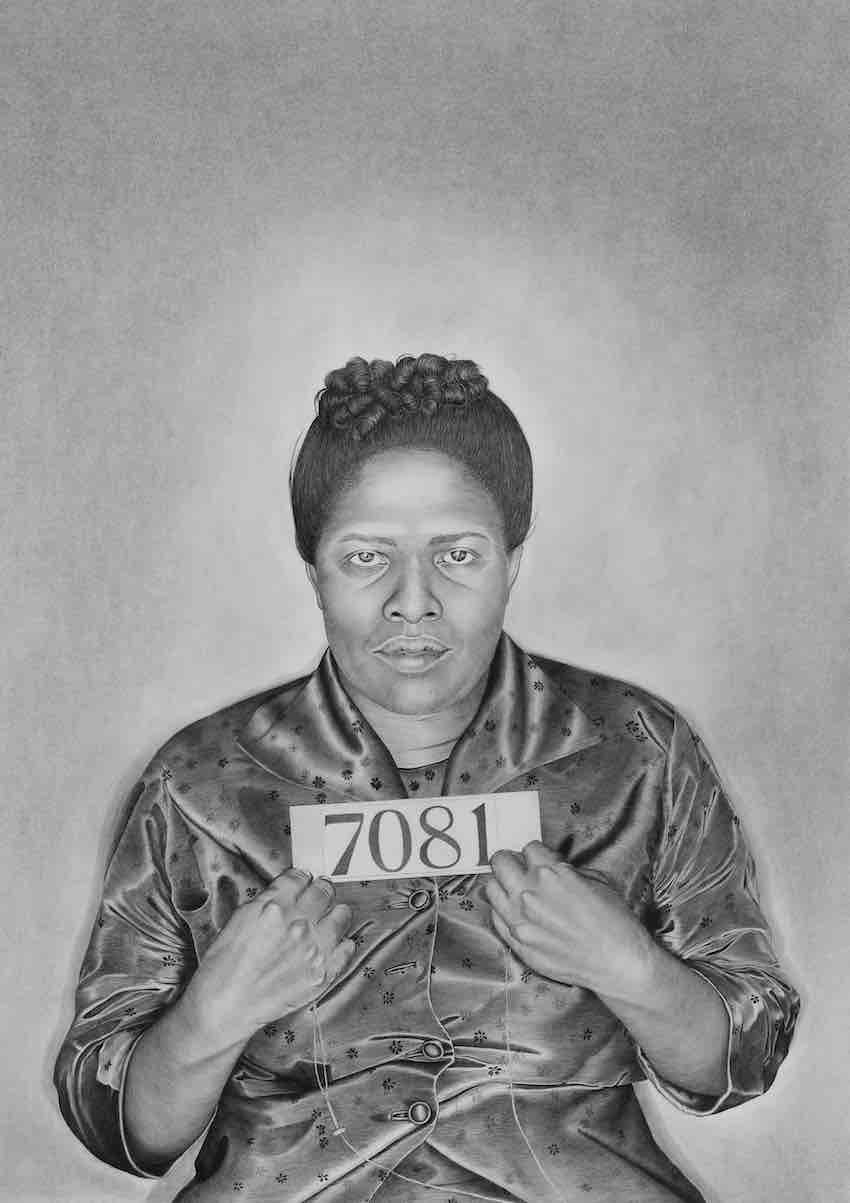 Resistance Reverb: Movements 1 & 2, 2018
Tambourines, leather, suede, Plexiglas, mirrored acrylic, acrylic paint, grosgrain ribbon, monofilament wire, S-hooks, aluminum grid, steel, fans, and lights
Approx. 102 × 156 × 312 in.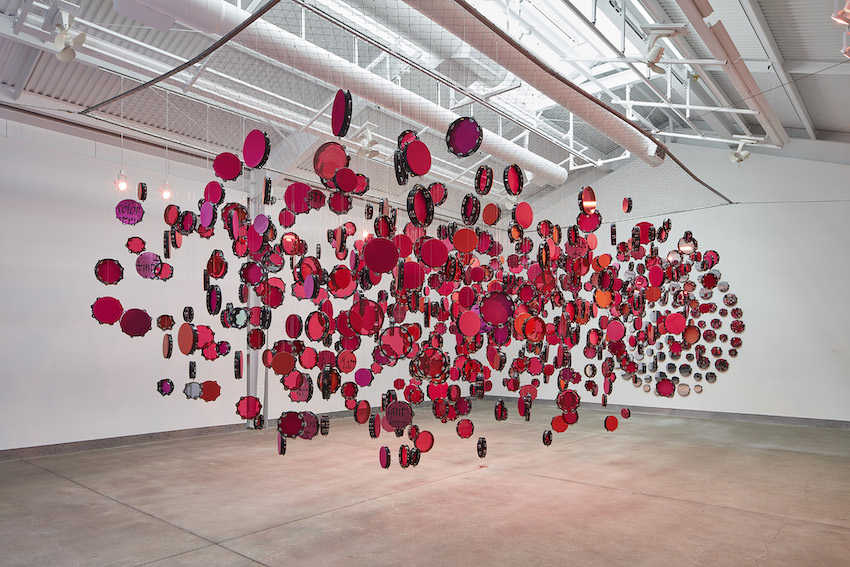 Looking Back and Seeing Now, 2015
Tambourines, lambskin, leather, ribbon, acrylic mirrors, digital prints, glue, monofilament wire, s-hooks, wood, and steel
144 x 180 x 240 in.