Ep.142 features Evita Tezeno. A Port Arthur, Texas native and graduate of Lamar University, she lives and works in Dallas. Tezeno's collage paintings employ richly patterned hand-painted papers and found objects in a contemporary folk-art style. Her work depicts a cast of characters in harmonious everyday scenes inspired by her family and friends, childhood memories in South Texas, personal dreams and moments from her adult life—and influenced by the great 20th century modernists Romare Bearden, Elizabeth Catlett, and William H. Johnson—scenes of joy animate her vision of a Black America filled with humanity.
As the recipient of the prestigious Elizabeth Catlett Award for The New Power Generation, Tezeno has built a career as an acclaimed multi-disciplinary female artist. Her work is included in the permanent collection of the African American Museum of Dallas and the Embassy of the Republic of Madagascar, the Pizzuti Collection, Columbus, OH; Bill and Christy Gautreaux Collection, Kansas City; and Beth Rudin DeWoody Collection, Palm Beach; among others. In addition, her work has been acquired by prominent collectors, entertainers, media personalities and athletes, including Esther Silver-Parker, Samuel L. Jackson, David Hoberman, Denzel Washington, Star Jones, Laurie David, and Susan Taylor, among others. She has been awarded commissions by the Essence Music Festival in New Orleans, The Deep Ellum Film Festival in Dallas, and the legendary New Orleans Jazz & Heritage Festival ("Jazz Fest"), where in 1999 she became the first female artist to design its celebrated poster.
Recent solo exhibitions include Better Days (2021) at Luis De Jesus Los Angeles, Los Angeles, CA; Evita Tezeno and Jas Mardis: Sharing Memories (2021) at ArtCentre of Plano, Plano, TX; Memories Create Our Yesterdays and Tomorrows (2019) at Thelma Harris Gallery, Oakland,
CA; Memories That Speak To My Soul (2018) at Stella Jones Gallery, New Orleans, LA; and Thoughts of Time Gone By (2017) at Peg Alston Gallery, New York, NY.
Selected group exhibitions include Réinterprétation (2020) at C.O.A. Contemporary Art Gallery, Montreal, Canada; Phenomenal Women #UsToo (2019) at the African American Museum, Dallas, TX; Love in the Time of Hysteria (2019) at Prism Art Fair, Miami, FL; Flagrant Rules of Ensued Emancipation 2019 at John Milde Gallery, Dallas, TX; Modern Day Muse (2019) at ArtCenter of Plano, Plano, TX; Arts Past & Present (2018) at George Bush Library, Dallas, TX; Daughter of Diaspora – Women of Color Speak (2018) at Hearne Fine Art, Hot Springs, AR; and New Power Generation 2012, curated by Myrtis Bedolla at Hampton University Museum, Hampton, VA.
Her work has been published and featured in numerous publications and media outlets, including Artforum, Artillery Magazine, Art Matters with Edward Goldman, Document Journal, Black Art in America, Collective Arts Network Journal, Culture Type, The Dallas Examiner, D Magazine, Dallas Woman, North Dallas Gazette, Fort Worth Star Telegram, Dallas Morning News, Eclipse Magazine, ONYX Magazine, The Shreveport Times, Visionary Art Collective, Visual Art Source, NBC 5 – DFW (video), and MAG-RAW Creations (video).
Artist https://evitatezeno.com/
Luis de Jesus Gallery https://www.luisdejesus.com/artists/evita-tezeno
Artillery Mag https://artillerymag.com/gallery-rounds-luis-de-jesus-los-angeles/
Art Now LA https://artnowla.com/2022/05/14/evita-tezeno-my-life-my-story/
Glasstire https://glasstire.com/2022/04/22/dallas-museum-of-art-announces-2022-art-fair-acquisitions-including-three-texas-artists/
Thelma Harris Gallery https://www.thelmaharrisartgallery.com/evita-tezeno
Platform Art https://www.platformart.com/artists/evita-tezeno
Black Art in America https://www.blackartinamerica.com/products/tezeno-evita-pookie
Town&Country https://www.townandcountrymag.com/leisure/arts-and-culture/a39981945/dallas-art-fair-2022/
Two x Two https://twoxtwo.org/catalogue/2022/i-am-proud/
She Curates https://www.she-curates.com/interviews/artists/evita-tezone/
GalleriesNow https://www.galleriesnow.net/shows/evita-tezeno-my-life-my-story/
Issuu https://issuu.com/patronmagazine/docs/patron_2022_april_may_issue/s/15326471
A Women's thing https://awomensthing.org/blog/armory-2022/
Images – courtesy Henry Miner
At the Bus Stop, 2022
Mixed media collage and acrylic on canvas
48 x 60 in.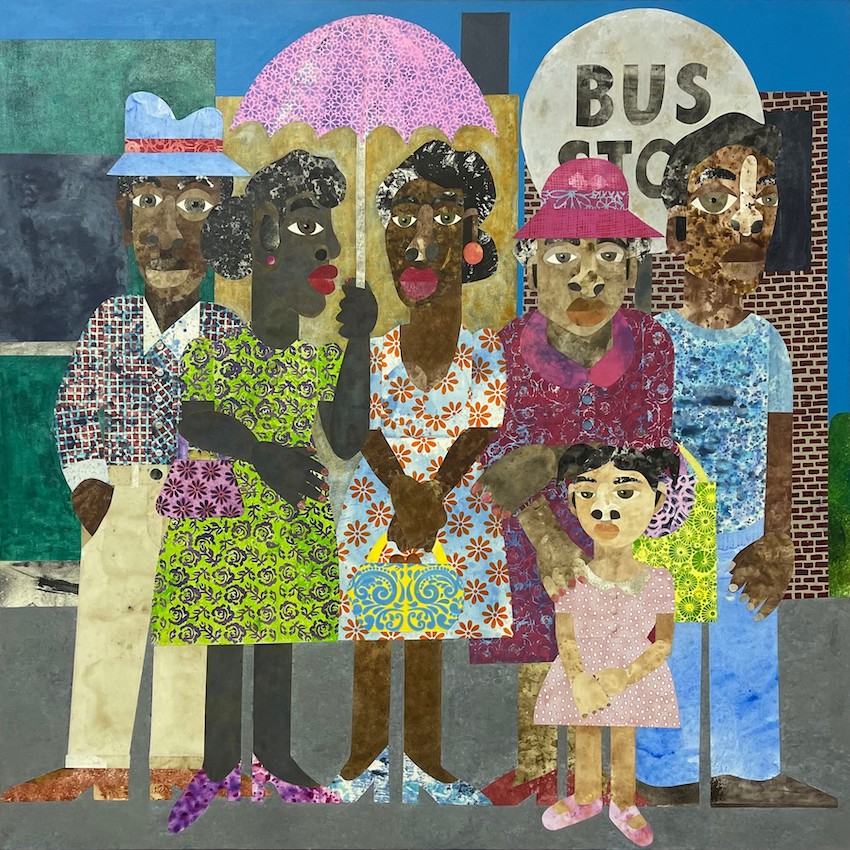 Play Me Some Toe Tapping Music, 2022
Mixed media collage and acrylic on canvas
60 x 48 in.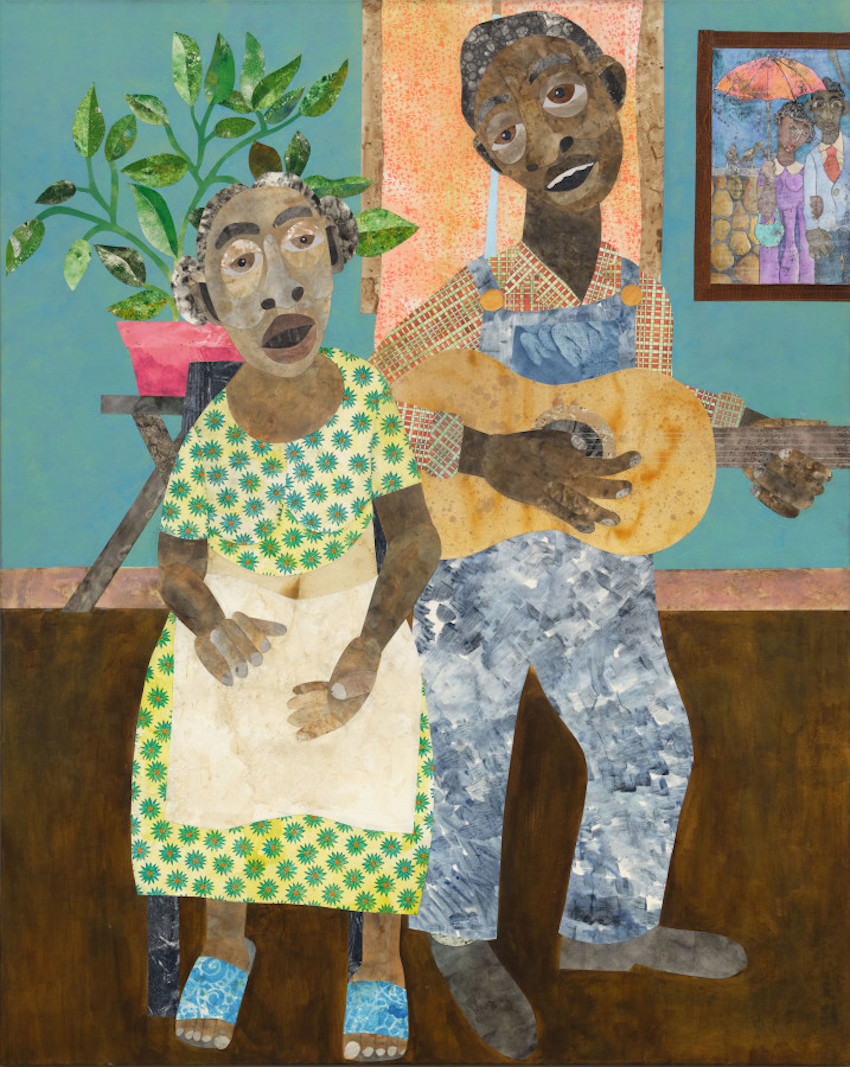 Hey Good Lookin', 2021
Mixed media collage and buttons on paper
22.75 x 15 in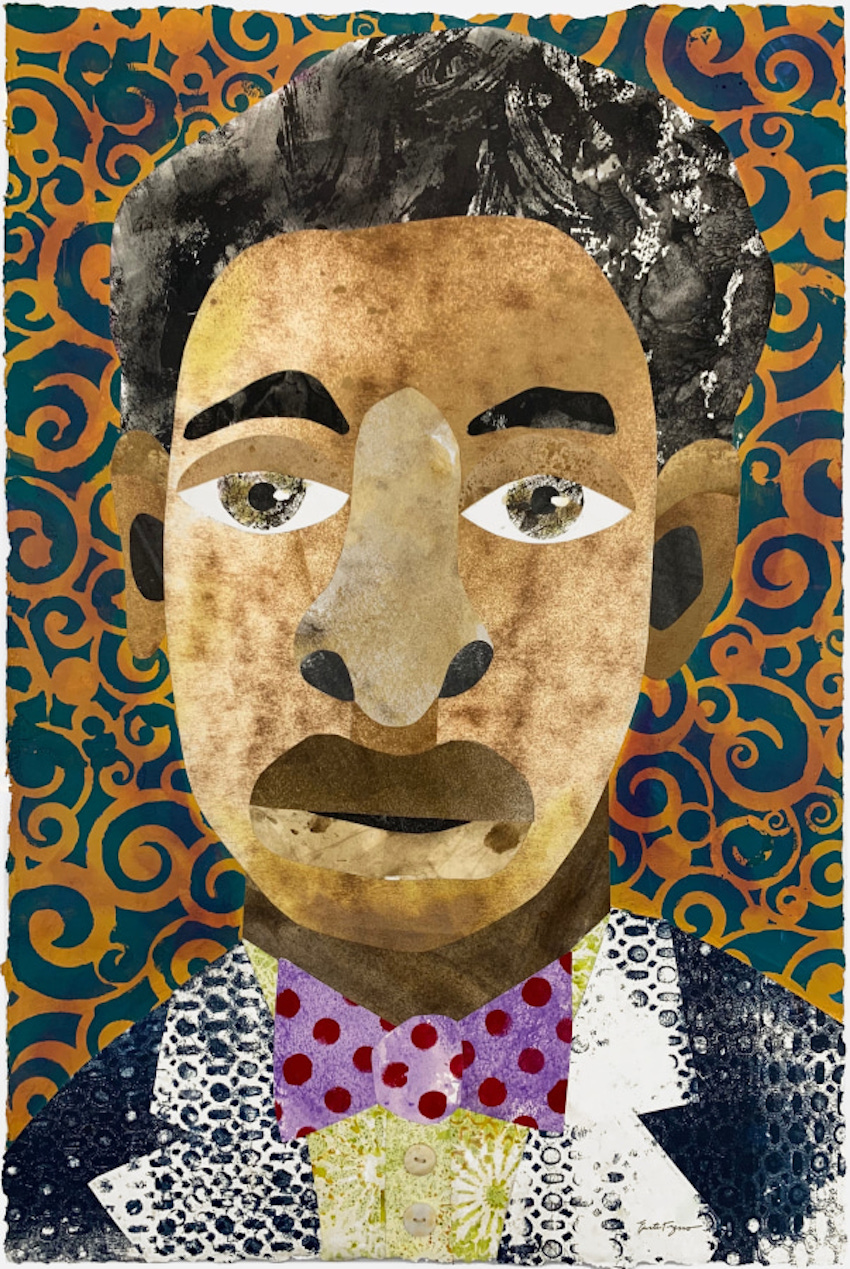 Celebrate, Good Times, 2022
Mixed media collage and acrylic on canvas
48 x 60 in.