Headshot credit LaVaughn Belle
Episode 84 features sculptor and painter Leonardo Benzant, a Dominican-American artist with Haitian heritage born and raised in Brooklyn. His practice is informed by his studies of the Kongo, Yoruba and his spiritual beliefs shaped by research into African and Caribbean religion, art, history, culture, rituals and informed by modern and contemporary art. He deploys a wide variety of media and found objects to create dynamic overhanging (or suspended) beaded sculptures and he is an impressive painter.
Leonardo received a Joan Mitchell Foundation Painters and Sculptors Grant, attended Pratt Institute and the Galveston Artist Residency in Texas. He has also participated in select exhibitions including Coffee, Rhum, Sugar & Gold, A Postcolonial Paradox, at MoAD in California, The Burke Prize, The Future of Craft Part 2, the Museum of Arts and Design, New York, Visionary Aponte: Art & Black Freedom at King Juan Carlos of Spain Center at NYU. He also participated in Untitled in Miami Beach in 2019 and 2020, Expo Chicago, Pulse contemporary, and the Claire Oliver Gallery.
His work is included in several important private and public collections including the Weisman Museum, Minneapolis Institute of Art, The Bunker Artspace, and the Harvey B. Gantt Center for African American Arts + Culture, Charlotte North Carolina.
In this episode the artist will share with us 'Notes' to himself.
Leonardo is currently exhibited by the Claire Oliver Gallery in Harlem. His first solo exhibition at the gallery titled Across Seven Ruins & Redemptions_Somo Kamarioka, opened on November 11th and will close on January 8th, 2022.
Claire Oliver Gallery https://www.claireoliver.com/artists/leonardo-benzant/
Joan Mitchell Foundation https://www.joanmitchellfoundation.org/leonardo-benzant
Museum of Arts and Design https://madmuseum.org/exhibition/burke-prize-2018
Museum of the African Diaspora San Francisco https://www.moadsf.org/blog/profile-leonardo-benzant/
San Francisco Examiner https://www.sfexaminer.com/entertainment/museum-of-african-diaspora-hosts-artists-in-studios/
In the Trove https://inthetrove.com/leonardo-benzant-interview
Gotham To Go https://gothamtogo.com/leonardo-benzant-across-seven-ruins-redemptions-somo-kamarioka-to-open-at-claire-oliver-gallery/
Taubman Museum of Art https://www.taubmanmuseum.org/calendar/24585/virtual-conversation-with-artist-leonardo-benzant and interview on YouTube https://www.youtube.com/watch?v=tNjBgpCIY2M
Double-Dutch Dreams: A Black Girl's Rhythm And Magic, A Black Boy Finding His Malongo (Seven African Powers)
2021 103 x 84 x 10 in fabric, glass seedbeads, wood beads, gel medium, acrylic, monofilament, fiber and string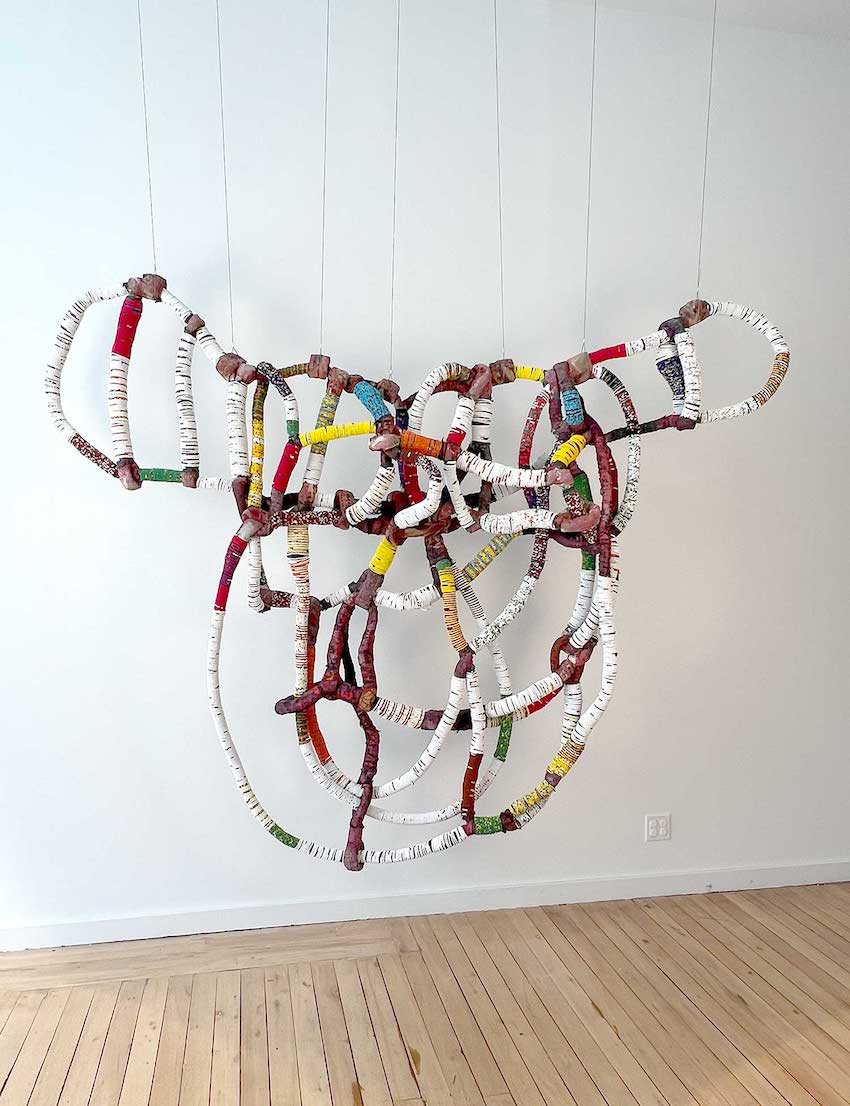 Detail: Double-Dutch Dreams: A Black Girl's Rhythm And Magic, A Black Boy Finding His Malongo (Seven African Powers)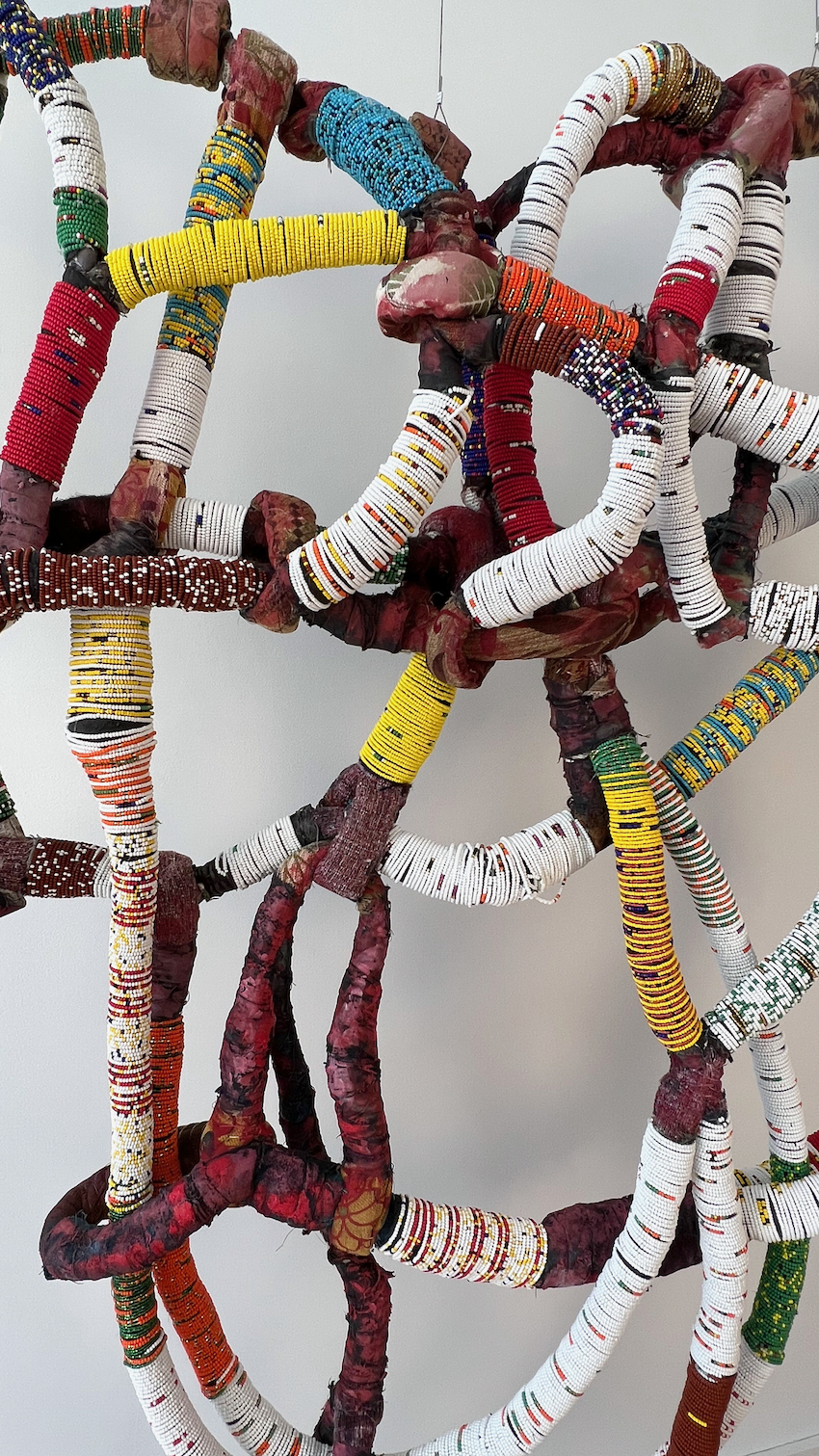 A Child Of Both Waters Is Born To Be A King
2021 36 x 112 x 10 in fabric, glass seed beads, wood beads, gel medium, acrylic, monofilament, fiber and string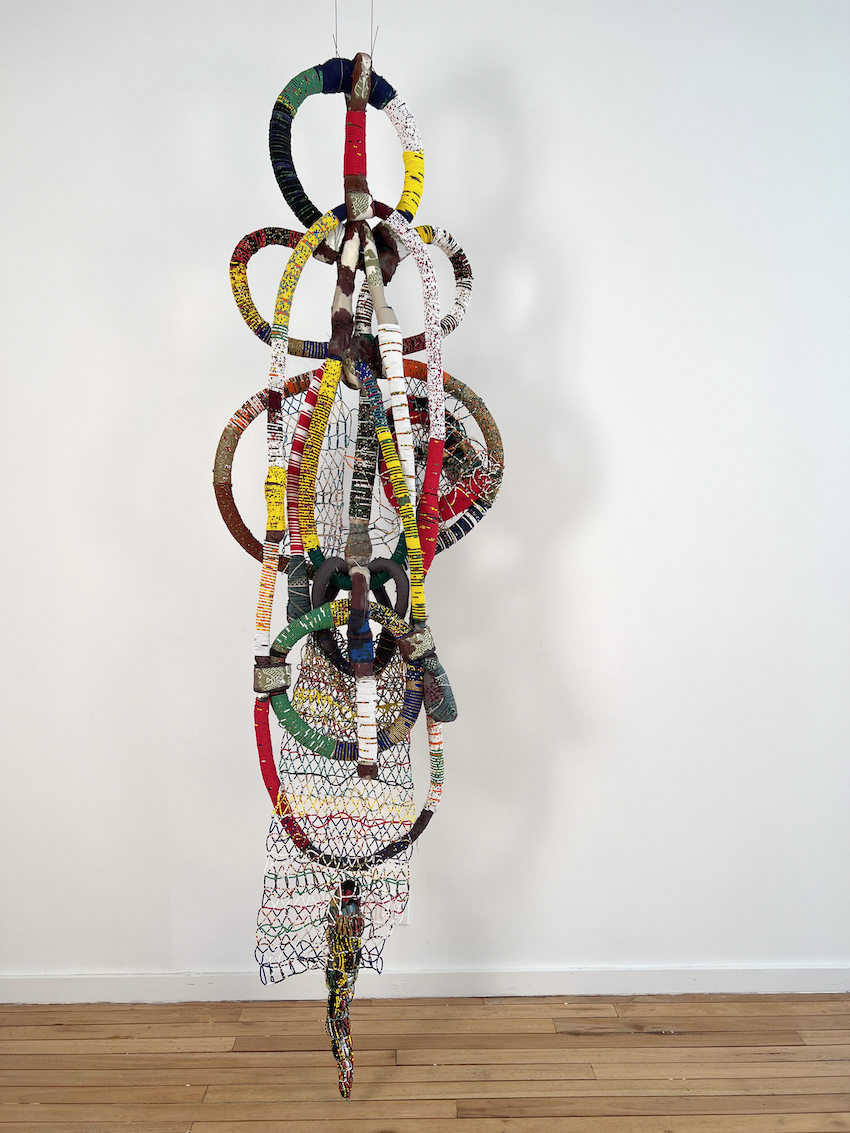 Detail: A Child Of Both Waters Is Born To Be A King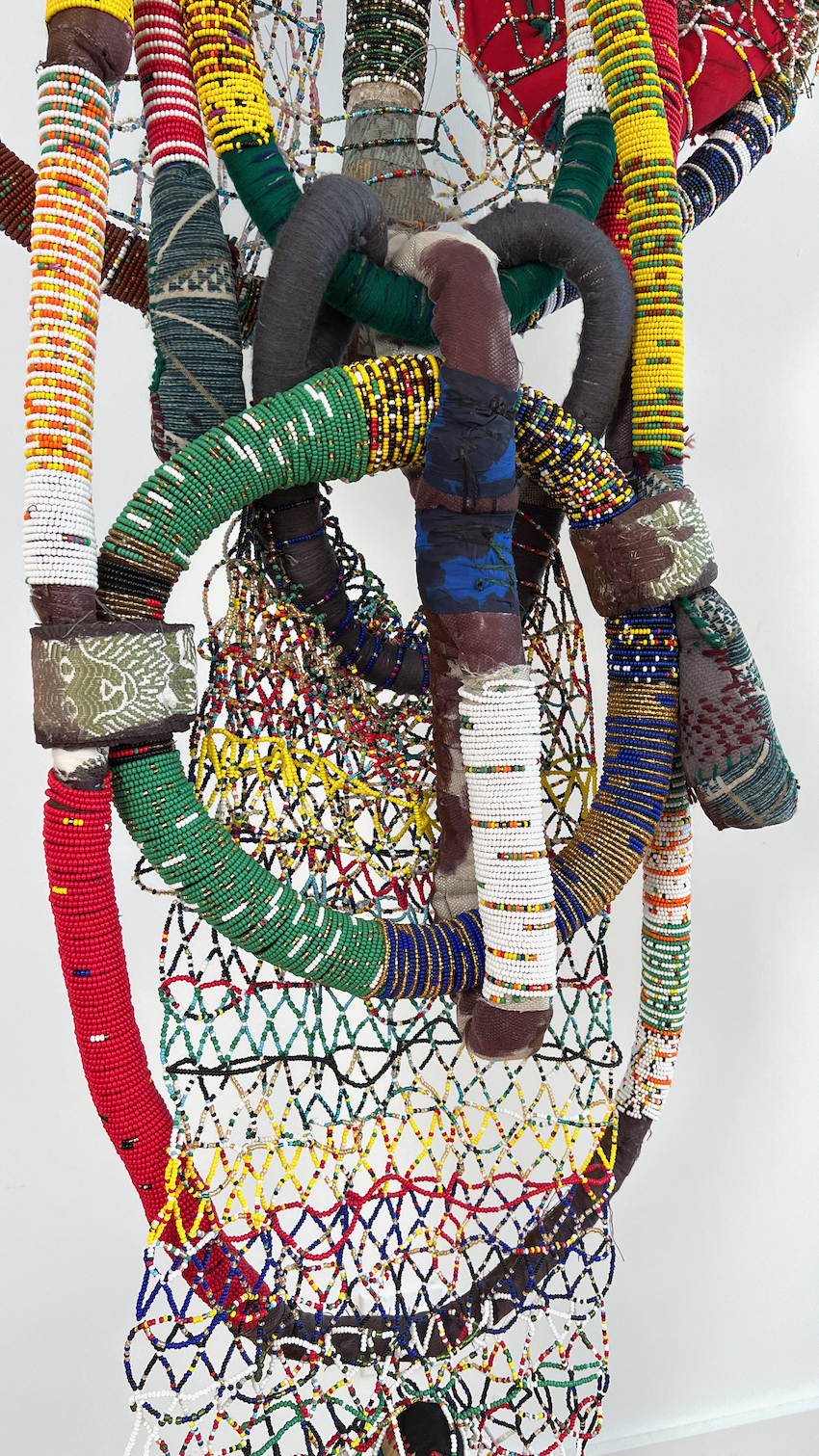 Lutete's Lamentó (the birth of a bleeding star)
2021  51″ x 90″
watercolor and acrylic on paper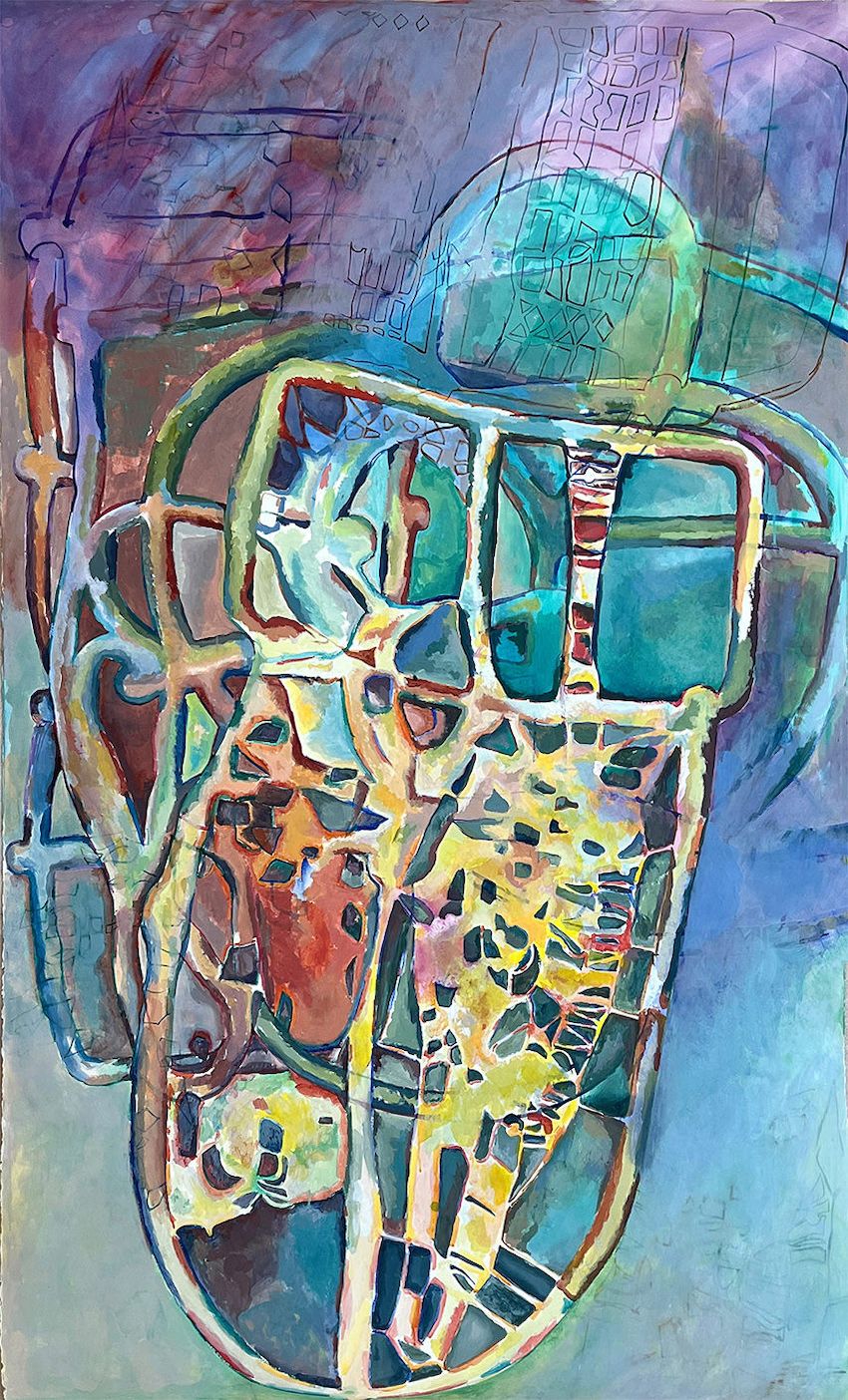 Voyaging con Mukanda (the living and the dead).
2021 51″ x 80″
watercolor and acrylic on paper