Photo Credit: Gisela McDaniel in her studio, 2023, Photo by Rachel Stern. Courtesy the artist and Pilar Corrias, London
Ep.176 features Gisela McDaniel, a diasporic, Indigenous Chamorro artist who explores the effects of trauma, displacement and colonisation through portraiture and oral histories. Interweaving audio interviews, assemblage and oil painting, she intentionally incorporates the portrait sitters' voices in order to subvert the traditional power relations of artist and sitter. Working primarily with women and non-binary people who identify as Black, Micronesian, Indigenous to Turtle Island, Asian, Latinx, and/or mixed-race, her work disrupts and responds to the systemic silencing of subjects in fine art, politics and popular culture.
McDaniel received her BFA from the University of Michigan in 2019.
Recent solo and group shows include: The inescapable interweaving of all lives, Kunsthalle Düsseldorf, Düsseldorf (2023); Tender Loving Care, Museum of Fine Arts Boston, Boston (2023); Thinking of You, FLAG Art Foundation, New York (2023); Manhaga Fu'una, Pilar Corrias, London (2022); A Place for Me: Figurative Painting Now, ICA Boston (2022); The Regional, Kemper Museum of Contemporary Art, Kansas City (2022); Sakkan Eku LA, The Mistake Room, Los Angeles (2021); How Do We Know the World?, Baltimore Museum of Art, Baltimore (2021); The Regional, CAC Contemporary Art Centre Cincinnati (2021); Dual Vision, MOCAD (2021); Making WAY/FARING Well, Pilar Corrias, London (2020); Dhaka Art Summit, Dhaka, Bangladesh (2020); On the Road II, Oolite Arts, Miami (2019); Save Art Space, Playground Detroit, Detroit (2019); Lush P(r)ose, Playground Detroit, Detroit (2019); Virago, Detroit Art Babes Collective, Detroit (2019) and Theotokos: New Visions of the Mother God, The Schvitz, Detroit (2018).
Artist https://www.giselamcdaniel.com/
Pilar Corrias https://www.pilarcorrias.com/artists/53-gisela-mcdaniel/
Perez Art Museum Miami  https://www.pamm.org/en/artwork/2020.216/
MFA Boston https://www.mfa.org/article/2022/tiningo-si-sirena-a-conversation-with-gisela-charfauros-mcdaniel-and-antoinette
i.D Vice https://i-d.vice.com/en/article/akvywb/gisela-mcdaniel-art-interview
Elephant https://elephant.art/gisela-mcdaniel-gauguins-paintings-of-pacific-islanders-felt-like-theft-to-me-18022022/
Artnet https://news.artnet.com/art-world/chamorro-painter-gisela-mcdaniel-interview-2064002
Playground Detroit https://playgrounddetroit.com/portfolio/gisela-mcdaniel/
Galleries Now https://www.galleriesnow.net/shows/gisela-mcdaniel-manhaga-fuuna/
Washington Informer https://www.washingtoninformer.com/armory-week-contemporary-art-dc/
Wikipedia https://en.wikipedia.org/wiki/Gisela_McDaniel
Kresge Arts in Detroit  https://kresgeartsindetroit.org/artist/gisela-mcdaniel/
Kadist https://kadist.org/people/gisela-mcdaniel/
She Curates https://www.she-curates.com/interviews/artists/gisela-mcdaniel/
Metro West https://metrowestcle.org/community-art/
Guam Pacific Daily News https://www.guampdn.com/lifestyle/gisela-mcdaniels-portraits-of-chamoru-diaspora-shown-in-london-gallery/article_c149e9ac-8e05-11ec-8f91-333179b3d301.html
The Hopper News https://hopperprize.org/gisela-mcdaniel/
Seen https://www.seenthemagazine.com/culture/arts_entertainment/the-power-of-a-paintbrush-gisela-mcdaniel-transforms-trauma-into-art/article_c071f946-0477-5e8a-a116-6e6adc2605cf.html
Twice as good, 2023
Oil on panel, found objects, resin, flower, sound
157.5 x 121.9 x 10.2 cm
62 x 48 x 4 in
Courtesy the artist and Pilar Corrias, London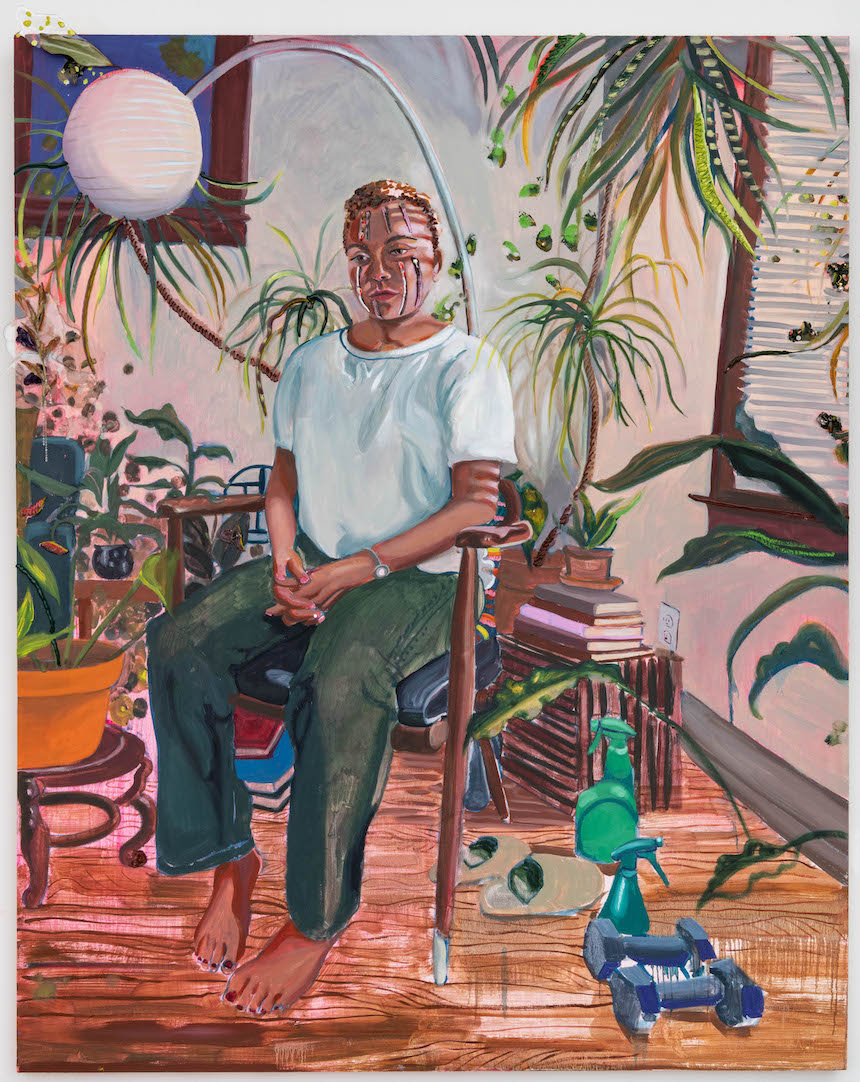 Living more, 2023 Oil on canvas, found object, sound
106.7 x 139.7 x 15.2 cm
42 x 55 x 6 in
Courtesy the artist and Pilar Corrias, London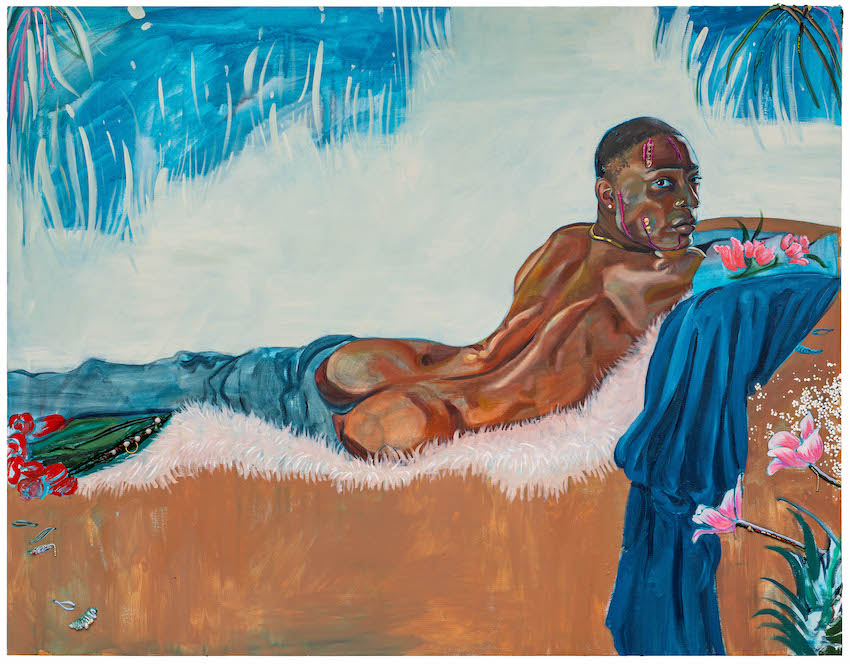 Bigger than me, 2023
Oil on canvas, flower, resin, necklace from subject, sound
165.1 x 279.4 x 17.8 cm
65 x 110 x 7 in
Courtesy the artist and Pilar Corrias, London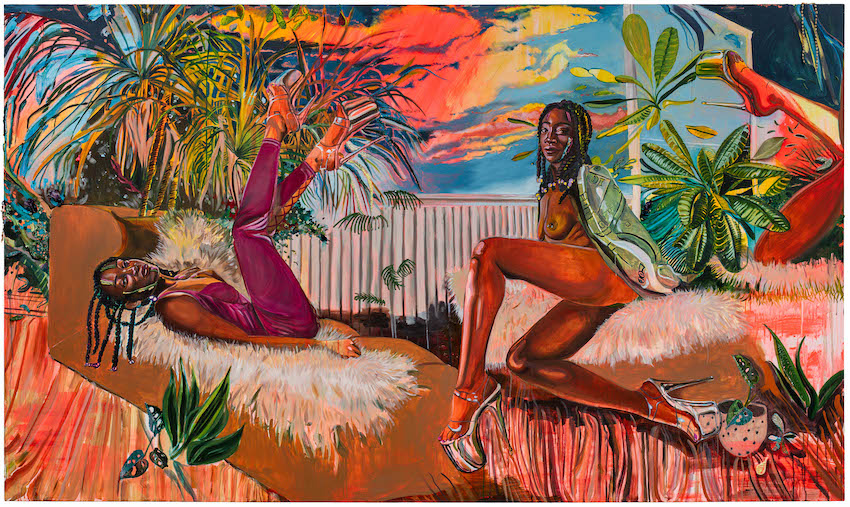 Compassion, 2023
Oil on canvas, object and text on paper from subject, sound
132.1 x 177.8 x 15.2 cm
52 x 70 x 6 in
Courtesy the artist and Pilar Corrias, London