Ep.165 features Harmonia Rosales. Born in Chicago, Illinois, she is an Afro-Cuban American artist currently based in Los Angeles, California. Her exquisite canvases navigate, and question received narratives from ancient myths, Biblical stories, classical antiquity, and AfroCuban culture, while challenging Eurocentric perceptions of beauty.
Her work has been shown in various group and solo exhibitions including Femme Touch (2020) at the Andy Warhol Museum in Pittsburgh, Miss Education: Reclaiming Our Identity (2020) at the Museum of Contemporary African Diasporan Art in Brooklyn, and most recently Harmonia Rosales: Entwined (2022) at the Art, Architecture & Design Museum at the University of California, Santa Barbara. Harmonia Rosales: Master Narrative is organized by the Memphis Brooks Museum of Art, in collaboration with the Art, Design & Architecture Museum at UC Santa Barbara.
Harmonia Rosales' first major traveling museum exhibition opened at Spelman College Museum of Fine Art in August 2023.
'Harmonia Rosales: Master Narrative, an exhibition of twenty paintings and a large scale sculptural installation. The artist seamlessly entwines the tales and characters of the Yorùbá religion, Greco-Roman mythology, and Christianity with the canonical works and artistic techniques of European Old Masters.'
Artist https://www.harmoniarosales.art/
Spellman College  https://www.spelman.edu/about-us/news-and-events/news-releases/2023/05/08/harmonia-rosales-first-major-traveling-museum-exhibition-to-open-at-spelman-college-museum-of-fine-art
NPR https://www.npr.org/2022/12/30/1145559044/visualizing-the-virgin-shows-mary-in-the-middle-ages
UTA https://utaartistspace.com/press/2022/11/21/artist-harmonia-rosales-reinterprets-genesis-through-a-stunning-subversion-of-the-sistine-chapel/
Forbes https://www.forbes.com/sites/chaddscott/2023/03/14/harmonia-rosales-renaissance-at-memphis-brooks-museum-of-art/?sh=350c8b6c45d3
Colossal https://www.thisiscolossal.com/2022/11/harmonia-rosales-garden-of-eve/
Atlanta Journal Constitution  https://www.ajc.com/things-to-do/atlanta-fall-arts-galleries-highlight-history-hip-hop-and-afro-caribbean-culture/UG5N2OFQVNDZLAXSUOBYB4EGP4/
ArtNews https://www.artnews.com/art-news/news/atlanta-university-center-black-art-history-scholarship-1234676015/
Boston Globe https://www.bostonglobe.com/2023/06/18/metro/kings-chapel-reckons-with-its-racial-history/
Memphis Flyer https://www.memphisflyer.com/harmonia-rosales-master-narrative-at-the-brooks
The Atlanta Voice https://theatlantavoice.com/master-narratives-by-harmonia-rosales-is-at-the-spelman-museum-of-fine-art/
Arts Atl  https://www.artsatl.org/master-narrative-at-spelman-reimagines-creation-story-through-yoruba-gods/
GBH https://www.wgbh.org/news/local/2023-06-15/on-bostons-freedom-trail-kings-chapel-plans-a-dramatic-facelift-to-recognize-its-ties-to-slavery
Commercial Appeal https://www.commercialappeal.com/story/entertainment/arts/2023/04/10/memphis-brooks-museum-exhibits-harmonia-rosales-master-narrative/69991313007/
Daily Memphian https://dailymemphian.com/section/arts-culture/article/35169/memphis-brooks-museum-master-narrative-harmonia-rosales-exhibit-review
Vogue https://www.voguescandinavia.com/articles/birth-of-oshun-watch-the-exclusive-video
Forbidden Fruit, 2021
Oil on wood panel, 48 x 36 in. (121.9 x 91.4 cm)
Courtesy of Dr. Keecha Harris © Harmonia Rosales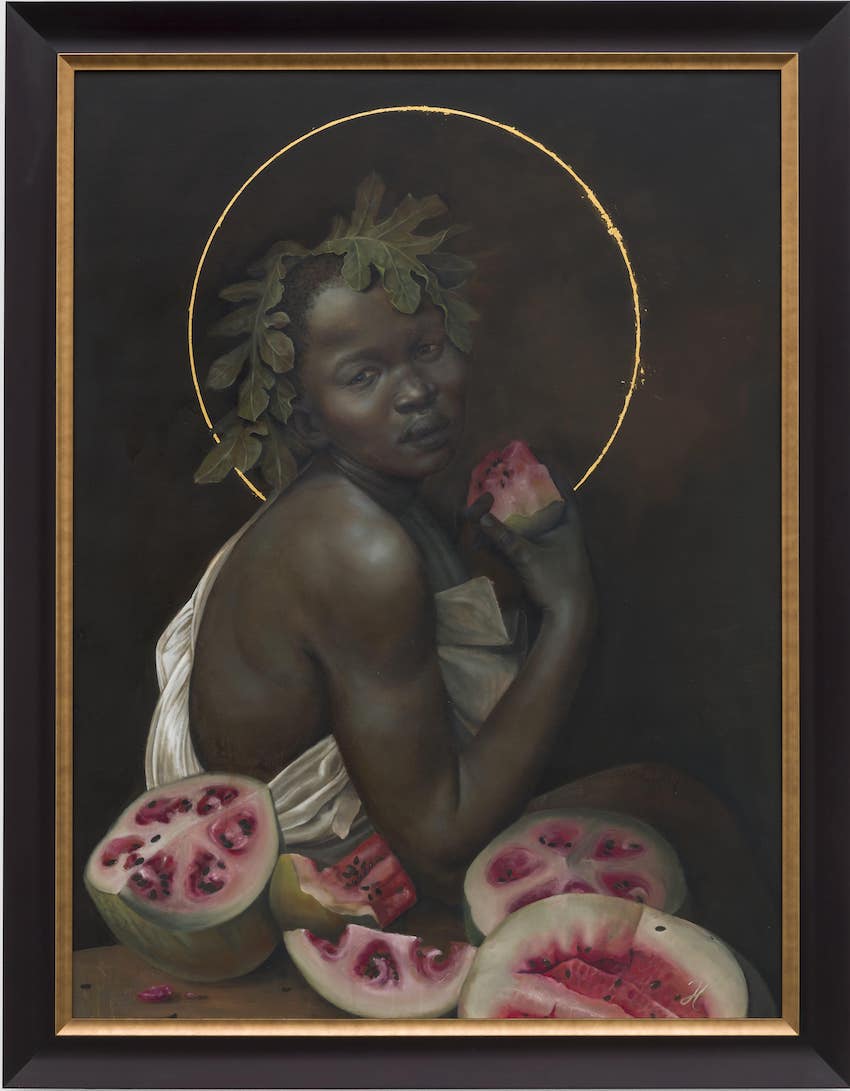 Still We Rise, 2021
Oil and gold leaf on canvas, 60 x 55 in. (152.4 x 139.7 cm)
Private collection of Hill Harper © Harmonia Rosales
Yemaya's Ascension into the Waters, 2019
Oil on linen, 20 x 20 in. (50.8 x 50.8 cm)
Private collection. © Harmonia Rosales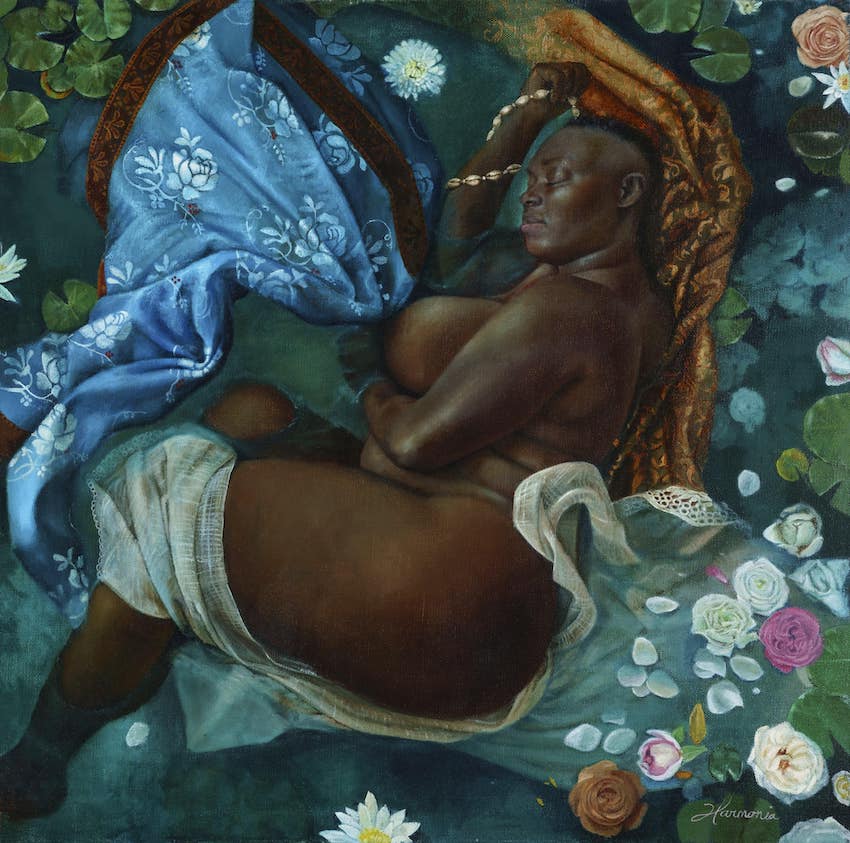 Garden of Eve, 2022
Oil on linen mounted on wood panel, 48 × 72 in. (121.9 × 182.9 cm)
Private collection © Harmonia