Photo credit: Jalil Ourguedi. Courtesy Mariane Ibrahim Gallery
Ep.123 features Raphaël Barontini (born in France in 1984, and currently lives and works in Saint-Denis, France). He has developed a singular and bold pictorial work, moving from a classical practice on canvas to large-scale textile and volume pieces that can be performative.
He questions the portrait and the symbolism of representations in an aesthetic of collage that combines photography, silk-screen prints and digital prints. His works take the form of flags, banners, hangings, tapestries or even ceremonial costumes such as capes. His large scenographies and performances allow us to apprehend the different faces of his production.
Barontini's work has been exhibited in institutions around the world, including the SCAD Museum of Art (Savannah, USA), MAC VAL (Vitry-sur-Seine, France), MO.CO (Montpellier, France), Museum of African Diaspora (San Francisco, USA), New Art Exchange Museum (Nottingham, USA).
He has also participated in the international biennials of Bamako, Mali, Casablanca, Morocco, Lima, Peru, and Thessaloniki, Greece.
In 2020, he was chosen by LVMH Métiers d'Art to complete a residency in Singapore.
Artist https://www.raphaelbarontini.art/
CV https://marianeibrahim.com/usr/library/documents/main/artists/50/raphael-barontinin-cv-pdf-2022.pdf
Mariane Ibrahim Gallery  https://marianeibrahim.com/artists/50-raphael-barontini/biography/
Metal Magazine https://metalmagazine.eu/en/post/interview/raphael-barontini
i-D https://i-d.vice.com/fr/article/epn8pa/lart-du-collage-selon-raphael-barontini
LVMH  https://www.lvmh.com/news-documents/news/lvmh-metiers-dart-exhibits-the-works-of-raphael-barontini-at-the-studio-des-acacias-in-paris/
Hyperallergic https://hyperallergic.com/627173/raphael-barontini-mariane-ibrahim-purple-moon/
CNN https://edition.cnn.com/style/article/mariane-ibrahim-paris-gallery-nomad/index.html
Le Monde   https://www.lemonde.fr/m-le-mag/article/2021/07/09/les-gens-s-arretent-a-ma-couleur-l-art-metisse-de-raphael-barontini_6087734_4500055.html
Numero https://www.numero.com/fr/art/exposition-raphael-barontini-studio-acacias-lvmh-paris
Connaissance des arts https://www.connaissancedesarts.com/artistes/nouveau-talent-raphael-barontini-createur-de-ponts-entre-les-mythes-et-les-cultures-11155995/
Whitewall https://whitewall.art/art/raphael-barontini-shares-work-from-the-lvmh-metiers-dart
Villa-Albertine  https://villa-albertine.org/residents/raphael-barontini
Radio France  https://www.radiofrance.fr/franceculture/podcasts/affaires-culturelles/raphael-barontini-est-l-invite-d-affaires-culturelles-8062563
Montpellier3m  https://www.montpellier3m.fr/evenement-agenda/exposition-raphael-barontini-jhabite-un-long-silence
French Cultural Services French Embassy US https://frenchculture.org/events/12876-raphael-barontini-mariane-ibrahim-gallery
Surface Magazine  https://www.surfacemag.com/events/raphael-barontini-the-night-of-the-purple-moon/
Artnet http://www.artnet.com/artists/rapha%C3%ABl-barontini/
Galerie Magazine https://galeriemagazine.com/gallerist-mariane-ibrahim-artist-raphael-barontini-found-inspiration-quarantine/
Say Who https://saywho.co.uk/mondains/raphael-barontini/
Reiffers Art Initiatives  https://www.reiffersartinitiatives.com/en/artistes/raphael-barontini-artist-reiffers-art-initiatives/
NYTimes https://www.nytimes.com/2019/11/29/arts/design/frederick-douglass-savannah.html
Au Bal des Grands Fonds, 2022
Acrylic, ink, glitter and silkscreen on canvas
72 7/8 x 120 1/8 x 2 3/8 in
185 x 305 x 6 cm
Courtesy of Mariane Ibrahim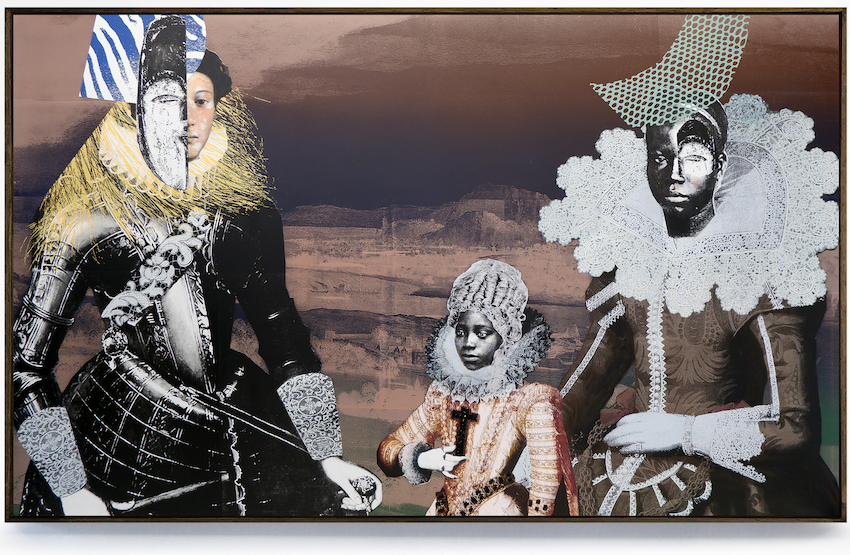 Cosmic Queen, 2022
Acrylic, inks, glitters and silkscreen on canvas
86 5/8 x 63 in
220 x 160 cm
Courtesy of Mariane Ibrahim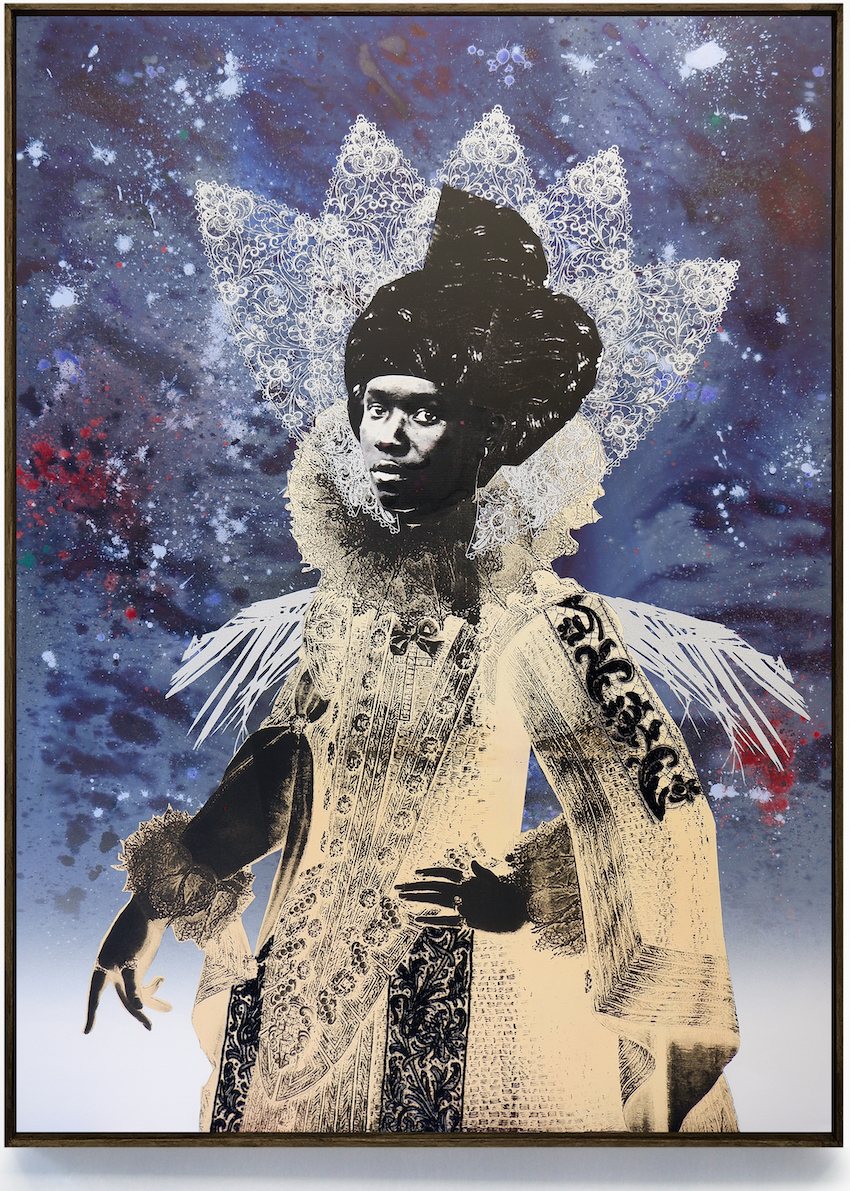 Fang Ambassador, 2022
Acrylic, inks and silkscreen on canvas
66 7/8 x 55 1/8 in
170 x 140 cm
Courtesy of Mariane Ibrahim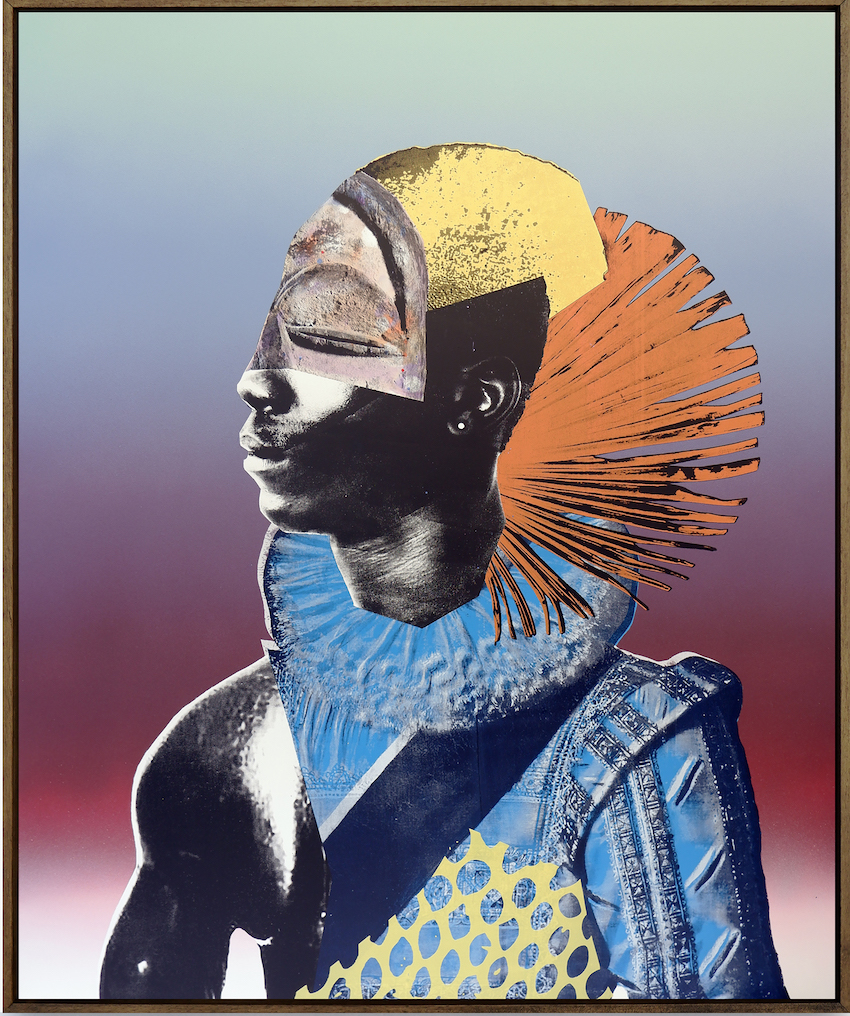 The Lewoz Queen, 2022
Acrylic, inks and silkscreen on canvas
70 7/8 x 118 1/8 in
180 x 300 cm
Courtesy of Mariane Ibrahim